Message from Undergraduate Chair Tricia Johnson
Message from Undergraduate Chair Tricia Johnson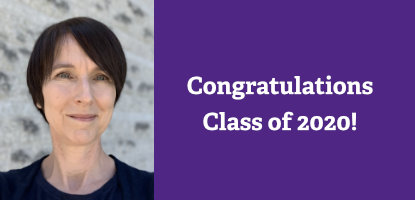 Congratulations to our Undergraduate Class of 2020 and welcome to the Alumni Western Family!
Thank you to everyone who has shared news about where they will be headed next year.
Here are a few successes we'd like to highlight, if we've missed you, please email visarts@uwo.ca and we'll include your news in our next newsletter.
News from our recent graduates:
Ethan Aquino-Chien - MLA (master of landscape architecture) University of Guelph
Calla Ellia - MA in Art History, U of T
Jasmine Sihra - MA at Concordia with a SSHRC grant too!
Shurui Wang - has MA offers from Goldsmiths, Leeds, and OCAD and is deliberating!
Zihan Xu - MLA from University of Guleph, going into her 2nd year
Michael Thompson - MFA University of Guelph
Emily Culbert - MFA OCAD
Max McKerlie - MFA OCAD
Natalie Scola - MA Museum Studies, U of T
Dayna Obbema - MA in Art History, Queens
Avery Creed - Curatorial Masters, OCAD
Yujia Liu - MA in Illustration, Camberwell College of Arts