Study Abroad & Exchanges

Western offers a number of exciting study abroad and exchange opportunities! Students from the Faculty of Arts & Humanities have travelled to Spain, Italy, Cuba, France, UK, Australia and more! For more information visit the Western International website.
---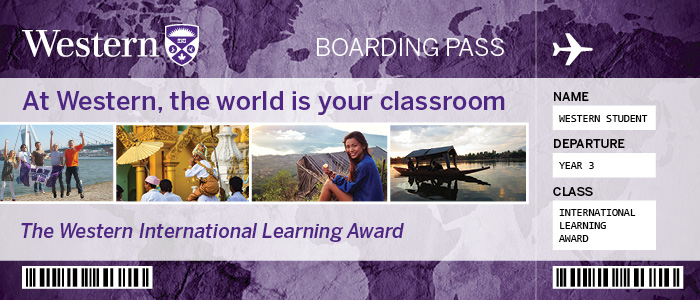 Western International Learning Award
Available to full-time undergraduate students in second year, planning an international learning experience in their third year of study. If you have a cumulative 80% average with a full-time course load at the end of Year 2, you will automatically be eligible for a $1,000 award to help finance an international learning experience. Students can participate in any of the following experiences during the following terms: summer prior to third year; fall and winter term of third year and summer following third year. Funding cannot be used for activities in first, second or fourth year.
Academic Exchange
Summer Study Abroad (before or after year 3)
International field courses (curriculum-based)
Alternative Spring Break
International Community Service Learning
Internships
International Research
Other University-led experiences
For more information visit Western International website
---

Western International Introduces the Global and Intercultural Engagement Honor 

Contemporary globalized society favours university graduates with global and intercultural competencies, and Western International's new Global and Intercultural Engagement Honor will recognize students' experience and engagement in such activities during their time at Western. Once achieved, the Honor will appear on the student's official transcript upon graduation. The structure of this program allows students to incorporate both curricular and extracurricular activities. Students awarded this honor will be global-ready graduates: they will have the skills required to negotiate an increasingly globalized reality, both professionally and personally. Learn more