Arts & Humanities Research
The Faculty of Arts and Humanities has a long and proud tradition of academic excellence. We rank consistently as one of the top Faculties in the Arts in Canada. Our nine departments and programs bring together over 150 full-time Professors, many of whom hold teaching and research awards on the local and international stages.
Research Spotlight:

Modern Languages and Literatures professor Juan Luis Suárez and Biology professor Kathleen Hill discuss CRISPR technology and editing of the human germline genome. Read more
---
Jason Winders, Western News, February 4, 2016

Women's Studies and Feminist Research PhD candidate Sarah Saska looks at how innovation can be leveraged to advance women's rights and gender equality. She is grateful to have a "rock star" supervisor in Bipasha Baruah, Canada Research Chair in Global Women's Issues.
---
By Adela Talbot, Western News, January 13, 2016

Tim Bayne is the new chair of the Philosophy of Neuroscience at Western, a post he officially took up in November. Read more
---
By Juan Luis Suarez, Western News, December 03, 2015

CulturePlex Lab shows history may remember Paris attacks by one tweet from One Direction. Read more
---

Jonathan Boulter, English and Writing Studies, has found a place among the first wave of video game culture academic researchers. This month, he released his first book on the subject. Read more
---

Mayme Lefurgey, Women's Studies & Feminist Research and Transitional Justice & Post-Conflict Reconstruction, was named among four Western PhD candidates to receive the Vanier Canada Graduate Scholarship. Read more 

---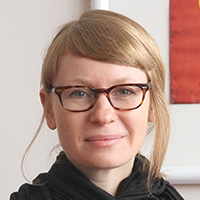 In this episode of "working (it) out" the Artslant podcast, Studio Faculty member Kelly Jazvac discusses Plastiglomerates, and her recent presentation to Paleobiologists at the Smithsonian Institute. Listen now
---
By Jason Winders, June 30, 2015

Classical Studies student Melanie Benard joined Western's Field School at Vindolanda to take a step or two into the past. But what she unearthed last week during the archaeological dig set her back on her heels.
---
June 29, 2015
A recent study by Western's Cultreplex Lab, published in International Journal for Digital Art History, concludes that the representation of facial beauty has varied over time and that these variations can be measured and tracked throughout the history of painting.
---
By Vanessa Brown, London Fuse, June 18, 2015

Michael Arntfield, English and Writing Studies, wrote the book on London's sordid past with serial killers. Find out why he studies cold cases and how this was kept quiet for so long.
---
By Leiter Reports: A Philosophy Blog, May 28, 2015
Charles Weijer and Stathis Psillos from the Rotman Institute of Philosophy are listed among the top 85 most-cited living philosophers worldwide, according to the popular philosophy blog The Leiter Reports.
---
May 07, 2015

In this special edition of Western News, members of the Rotman Institute of Philosophy offer up their BIG IDEAS on the questions you'll be facing tomorrow – and beyond.
---
April 14, 2015

Western University's David Bentley – a nationally acclaimed teacher from the Department of English & Writing Studies and a leading scholar of Canadian poetry – is a 2015 Killam Prize winner.
---
By Western News, Jason Winders, March 16, 2015

Alison Conway, English, has been named one of 12 Western Faculty Scholars this year.The recipients are considered all-around scholars and will hold the title of Faculty Scholar for two years and receive $7,000 each year for scholarly activities. 

---
By Marc Montgomery, CBC Radio, February 02, 2015

Elizabeth M Greene, assistant professor, Roman Archeology, Department of Classical Studies, Western University, has been studying the role of women in ancient Rome, and it army. While in a museum studying plaster casts of the various scenes depicted on the column, she noticed something that seems obvious, but somehow has somehow escaped "legions" of scholars for so many decades.
---