Why Arts & Humanities at Western?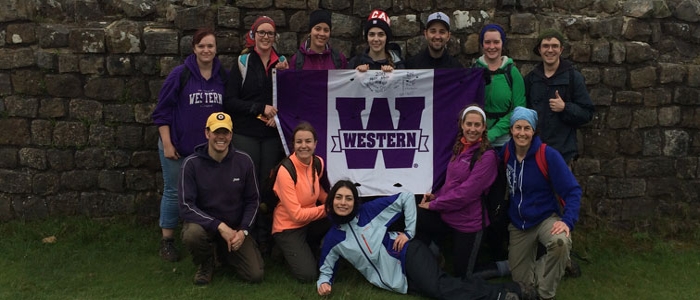 The flexibility of an Arts and Humanities degree offers a multifaceted perspective that allows you to follow your passion. Through your experience at Western, you will hone your skills in critical thinking and effective communication, key factors that will allow you to manage the constantly changing demands of contemporary careers. Our programs prepare you for graduate studies and many professional programs such as Law, Business, Education, Engineering, and yes, even Medicine!
Highlights Include:
Small classrooms
Low student-to-faculty ratio (one of the lowest amongst research intensive universiies)
Award-winning teachers (both provincially and nationally)
Senior faculty teaching first-year courses
Choice, choice, and more choice — amazing range of courses in all our departments
Unique program structures — program modules allow you to create unique degrees
Small Faculty, Big University! Personalized attention with the benefits of everything a large institution has to offer
Excellent program counselling throughout your degree
94% of our grads get jobs within six months of graduating
Employers love Arts and Humanities students because they have great problem solving skills, they can communicate well, and adapt to many different situations
New & Exciting:
School for Advanced Studies in the Arts & Humanities delivers a transformative education to a small cohort of top students. For details visit: western.ca/SASAH
Unearth history at the Archaeological Field School at Vindolanda, an ancient Roman military fort on Hadrian's wall in Great Britain
Our Digital Humanities program is the first of its kind in Canada
Experience the Middle Ages in an exciting new Medieval Studies program that brings together over twenty world-renown medievalist from a variety of disciplines
The inter-faculty Program in Linguistics allows Western students from any Faculty to study Linguistics either on its own or in combination with another subject
The undergraduate program in Museum and Curatorial Studies is one of the only programs of its kind in Canada, as it prepares students with hands-on work in the museum and cultural sector
Explore techniques of video production in Film Studies and Visual Arts courses
Bring texts to life on stage through drama courses offered in both English and French Studies
Study Abroad in France, Germany, Rwanda, Cuba and more. The opportunities to immerse oneself in a new language and culture are endless!