Current Exhibition & Events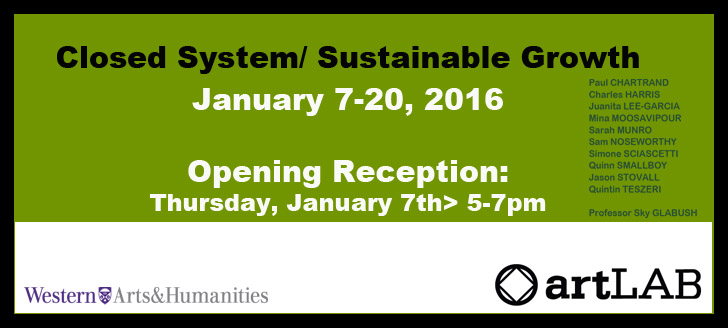 January 7 – 20, 2016  
OPENING Reception: Thurs. Jan. 7th , 5-7pm
By creating the conditions for growth to occur (whether by restaging a framework of ecology, or architecture, or the market economy), "Closed System/Sustainable Growth" aims to protect and foster an atmosphere that nurtures individual expression and development while acknowledging the structural imperatives and limitations of education within the economical and social imperatives of post-secondary institution.
---
TACO FEAST
The Artlab Gallery invites you to be part of an art experience with MFA candidates Juanita Lee-Garcia, Paul Chartrand, and guest artist Eugenio Salas AKA #riceandbeans who will cook-up a Taco Feast. This performative dialogue considers commerce exchange, the implications of growth and development, and the social act of networking. Eat a taco, visit with your friends, make new acquaintances.
In conjunction with the Closed System/Sustainable Growth exhibition on view at the Artlab Gallery.
January 14, 2016  4:30 pm - 6:00 pm
---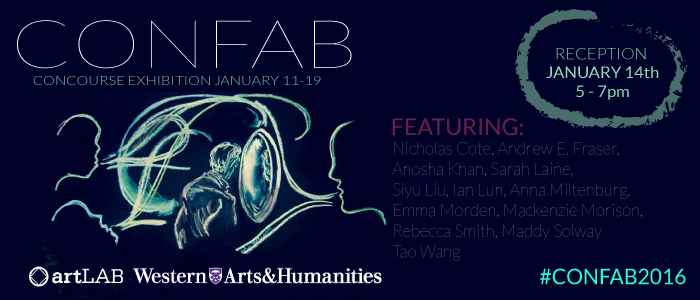 CONFAB
CONCOURSE GALLERY
January 11 – 19, 2016 - Reception: January 14 > 6-7pm
Inner monologues performed on an outer stage and perplexing green screen confabulations, all simultaneously, more or less. With Nicholas Cote, Andrew E. Fraser, Anosha Khan, Sarah Laine, Siyu Liu, Ian Lun, Anna Miltenburg, Emma Morden, Mackenzie Morison, Rebecca Smith, Maddy Solway, and Tao Wang
EXHIBITION PERFORMANCE SCHEDULE
Monday, January 11th
Siyu Lu: 3-5pm
Tuesday, January 12th
Andrew Fraser: 3-4pm
Siyu Lu: 4-5pm
Anna Miltenburg: 5-6pm 
Wednesday, January 13th
Anosha Khan: 12-1pm
Tao Wang: 1-2pm
Sarah Laine: 2-3pm
Thursday, January 14th
Nic Cote: 3-4pm
Friday, January 15th
Mackenzie Morison: 12-1pm
Ian Lun: 4-5pm 
Monday, January 18th
Emma Morden: 12-1pm
Rebecca Smith: 2-3pm 
Tuesday, January 19th
Maddy Solway: 3-4pm