Current Exhibition & Events
Fellow Feeling | Practicum Exhibition
March 24th - April 7th, 2017, Opening Reception: Friday March 24th > 7PM, Remarks: 7:30pm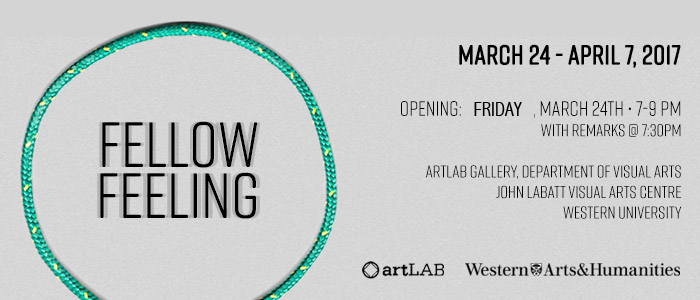 The Studio Arts Practicum graduating class of 2016/2017 presents an exhibition that explores individuality and togetherness, truth and trends, earth and internet. This thesis exhibition represents a years-worth of development through print, paint, clay, concrete, media, performance, photography, and slime.

 
Remarks take place at 7:30pm in the Cohen Commons. A performance by Ronnie Clarke will be held in the main gallery at 7:45pm.
Practicum Artists:
Michael Becker-Segal
Kevin Campbell Parker
Ronnie Clarke
Rachel Hahn
Jenna Fifield
Joanna Skiba
Jill Smith
Rebecca Sun
Val Vallejo
___________________________________________________________
roll call
March 24th - April 7th, 2017, Opening Reception: Friday March 24th > 7PM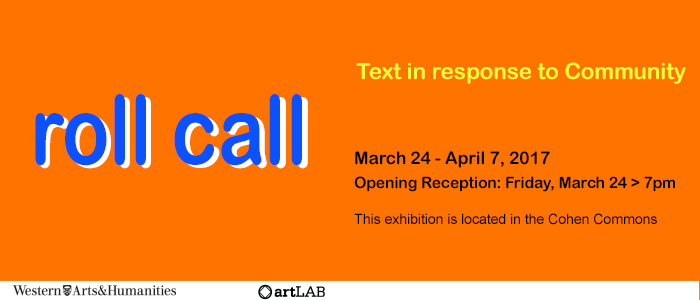 A gathering of ideas, reasons, comforts, unease, humour and resistance in response to community, in the form of visual texts. The result of a participatory question: "What does community mean to you?" Through the recombining of the thoughts of many, 10 prints have been created to provoke what the word, idea, and embodiment of community can mean to people. In conjunction with the 2017 Graduate Conference, "Community: A Participatory Art Conference" and Open Studios, the exhibition, "roll call", aims to help stimulate thought as well as conversation with the public on how one fits inside or outside of a community… What the word community means… And the opportunities and challenges that can arise from engaging with it.
Guest Curated by Mackenzie Sinclair