Current Exhibition & Events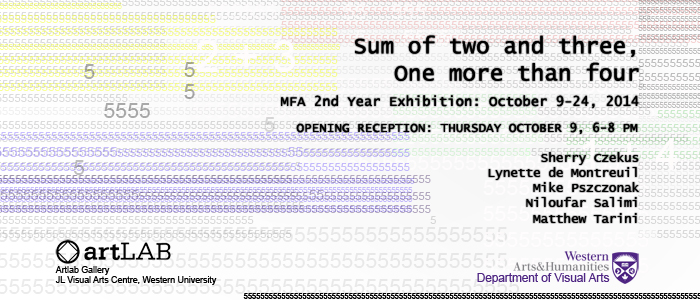 ---
Sum of Two and Three,
One more than Four  
October 9 – 24, 2014
Opening Reception: October 9th 6-8pm
The Sum of Two and Three, One more than Four is an exhibition featuring recent work by second year MFA candidates; Sherry Czekus, Lynette de Montreuil, Mike Pszczonak, Niloufar Salimi, and Matt Tarini from Western University's Department of Visual Arts.  New Painting, drawing, sculpture and works on paper represent the culmination of research, production and critique from the past year. Further investigation into issues of time and painting, growth and decay, visual perception, identity and memory, and the urban environment are presented with distinct individual approaches to studio production.  
A catalogue will accompany the exhibition with essays by second year Master's in Art History students, Kelly McKenzie, Matthew Purvis, and Ruth Skinner.
All events are free. Everyone is welcome!
Artlab Gallery
Department of Visual Arts

John Labatt Visual Arts Centre
Perth Drive, London, Ontario, Canada
For more information please contact: 
Susan Edelstein, Gallery Director sedelst@uwo.ca 
Email: artlab@uwo.ca
Facebook: : www.facebook.com/artLabGallery.WesternU
Twitter: https://twitter.com/artLAB_gallery
Gallery Hours: Monday to Friday > 12-5PM