Installing Artwork in the VAC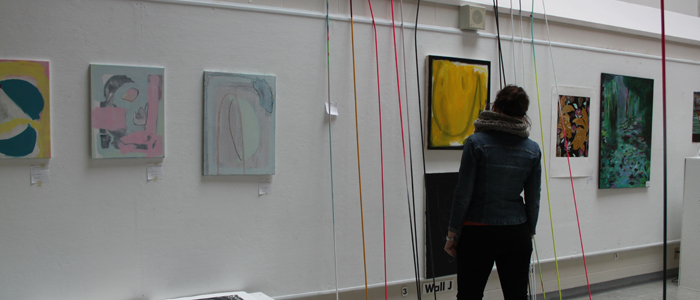 Walls and floor spaces throughout the John Labatt Visual Arts Centre can be signed-out by Undergraduate students for a one-week period (Sunday to Saturday) to display artwork. All students wishing to sign-out a wall or floor space must do so in the main office, room 200. Please sign-out the approprite wall in the wall booking binder on the main reception desk during regular office hours.
Any installation in the building must meet all of the following safety requirements:
1. An installation CANNOT block or impede any fire exit or stair well.
2. An installation must not contain sharp protruding objects
3. You CANNOT install in the elevators.
4. You MUST leave a 42" passage way in all hallways.
5. You CANNOT remove or obscure fire extinguishers.
6. You CANNOT cover or alter any of the exit lights.
7. You CANNOT hang or support objects from the lighting fixtures, tracks or plumbing.*
8. RE: Instalations requiring electricity; extension cords are not permitted, student must use power bars to comply with fire code. Daisy-chaining of power bars (ie. plugging one power bar in to another) is not permitted.
*Ladder safety training is required to use a ladder on campus. If you require ladder safety training, please contact Andrew Silk for the next availible training date.
By installing your artwork in the John Labatt Visual Arts Centre, you agree to have it photographed and release all rights in and consent to the use of this photo for all legal purposes (including, without limitation, advertising, display, editorial, packaging, promotion, television, social media, the Department of Visual Arts website, flickr, Twitter etc.) by Western University.
If you wish to install work on campus, outside of the JLVAC:
1. You must obtain a faculty/staff sponsor.
2. Prepare a written proposal with illustrations and/or drawings (if possible).
3. Contact UWO Building and Grounds Department and establish individual responsibility for the
area/architecture/plants/trees, etc involved in the project.
4. Inquire about the possibilities and restrictions
5. Make a presentation to the Facilities Management individual responsible for the particular area you require.


For installations and requests that may present hazards, cause disruptions or require special installation (hanging, video projection, performance art), students are required to fill out the Installation & Performance request form and obtain approval from the Technical Specialist Manager, Julia Beltrano (office 241d).