Upcoming Exhibitions & Events
Past Forward 50th Anniversary Exhibition
September 5-29, 2017, Opening Reception: Saturday, Sept. 16th > 7-9pm, Remarks: 7:30PM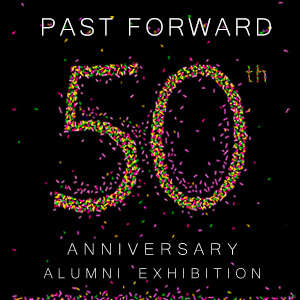 Organized in celebration of the Visual Arts Department's 50th anniversary this exciting exhibition will feature over 150 images and texts from graduates of our programs in studio and art history.

All are welcome /Admission is free / Limited Free Parking is available

Past Forward brings together students that have graduated from our studio and art history programs. All Alumni are invited to take part in this large scale exhibit which will feature photography and text.
---
Edit-A-Thon
Saturday, September 23rd > Noon-5PM Wikipedia Editing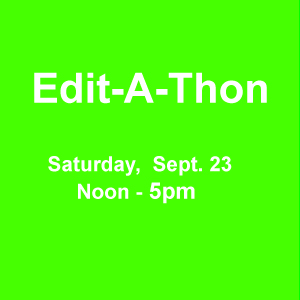 Event hosted by the Artlab Gallery Western. Organized in collaboration with Forest City Gallery. Please join us to create and edit Wikipedia articles about female artists, and feminist art movements. Assistance will be provided for beginners. Western alumna Siân Evans (MA, Art History, 2007) will speak about her involvement in founding and organizing the internationally lauded "Art+Feminism Wikipedia edit-a-thons." We invite participants of all genders to join in this Wikipedia Edit-A-Thon event. Please bring your own laptop, power cord and ideas for what needs updating.
All are welcome. Admission is Free.
---
Sleight of Hands
October 5-19, 2017 Opening Reception: Thursday, Oct. 5th > 5-7PM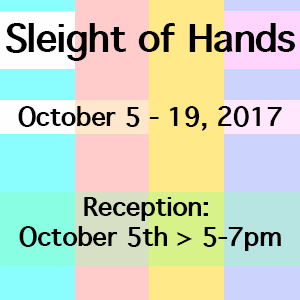 This exhibition will feature the work of second year MFA candidates; Claire Bartelman, Tyler Durbano, Sharmista Kar, Graham Macaulay, Matt Trueman, Rah Eleh and Joy Wong who will showcase their sleight of hand; that is, the magic of artists creating something from nothing. While each artist works with different materials and themes, the "artist's hand" and embodied knowledge of making are constants in their respective practices. Through woodworking, movement, stitching, painting and assemblage, art production seems to materialize out of thin air. Much like illusionists, the group aims to both manipulate and pique with finesse and dexterity. The Artlab Gallery will feature work the artists have created throughout their first year In the Visual Arts Department, Western. In addition, the Cohen Commons area will showcase small, intimate works that highlight the relationship between the making process and the illusion of ease through the artist's hand. At once challenging the notion that "bigger is better", these portable pieces fit in each artists' palm, acting as an offering and a prequel to the Artlab exhibition. The MFA studio experience is a demanding one that challenges the embodied knowledge the artists have accumulated. In grasping, kneading, picking, and petting, they show that many hands make light work.
---
Ido Govrin Not Quite the Highest Point
October 26– November 12, 2017 Opening Reception: Thursday October 26> 5-7pm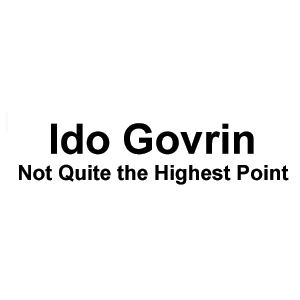 Not Quite the Highest Point continues Govrin's interdisciplinary artistic research in the mediums of sound, installation, printmaking and text. This current exhibition, which signals a direction towards the culmination of four years of research, corresponds with Giorgio Agamben's research methodology (known as "Philosophical Archeology") where at its core we find an attempt to render inoperative the foundation of Western metaphysics. Not Quite the Highest Point consists of multiple sets of objects, ephemera, sounds, leftovers, miniatures, books and perishable instances which form various paradigmatic historical constellations or thought-spaces, rendered and conceived by archeological art-making. Stretched between art and philosophy, sound and meaning, part and whole, content and form, Not Quite the Highest Point constitutes a force field of bipolar tensions which is measured not by extensive and scaleable magnitudes but by vectorial intensities. Measured not by extensive and scaleable magnitudes but by vectorial intensities.
---
AJE (Annual Juried Exhibition)
November 23 – December 6, 2017 Opening Reception: Thursday, November 23 >5-7pm
People's Choice Voting: from 5 - 6pm AJE Award Announcements: 6:30pm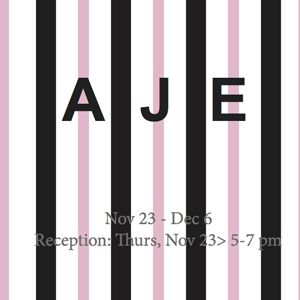 Back for the 15th year, this highly anticipated exhibition features a diverse selection of artworks by Undergraduate students from the Visual Arts Department, Western. This exciting exhibit supports the production of new artwork from a variety of mediums which includes painting, sculpture, digital media, photography, installation and performance. Works in this large group exhibition are selected by a professional jury who consider originality, creativity, process and engagement as some of the criteria for inclusion. ALL WELCOME Admission is Free