Upcoming Exhibitions & Events
 The Black and White Exhibition
The Black and White Exhibition
June 2-13, 2017
Opening Reception: Friday June 2nd > 7- 9PM
Remarks: 7:30PM
The Artlab Gallery is pleased to present The Black and White Exhibition. Back for the third consecutive year this collaborative event features artwork from over seventy students from five different schools.
This diverse outreach exhibit features curated selections from schools situated within the Thames Valley District School Board including; Bealart, London Central, Oakridge, Sir Fredrick Banting, and W.D. Sutton.
 Please join us for this special evening when we come together to create new communities that include student artists, their families, and the dedicated Arts Faculty from the Thames Valley District School Board, and Western's Department of Visual Arts.
---
Past Forward 50th Anniversary Exhibition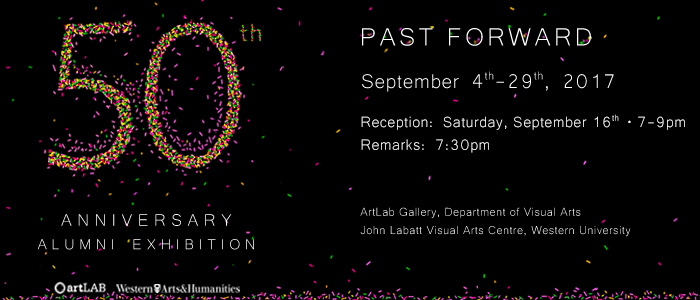 September 4-29th 2017, Opening Reception: Saturday, September 16th> 7-9PM


Past Forward brings together students that have graduated from our studio and art history programs. All Alumni are invited to take part in this large scale exhibit which will feature photography and text.
DEADLINE FOR PARTICIPATION: Your submissions (image and text) must be received via email no later than June 1st, 2017.
ALL SUBMISSIONS SHOULD BE SENT TO alumni17@uwo.ca
To participate in the Department of Visual Arts 2017 Alumni exhibition, Past Forward, please follow the submission criteria listed below. All submissions (photo and text) must be sent to our dedicated alumni email address:  alumni17@uwo.ca  
PLEASE SEND THE FOLLOWING: ONE PHOTOGRAPH: Your image will be projected on to a large screen in the Artlab Gallery. For this reason, we will need you to send a large size image file via email.   FORMAT: j-Peg image only.  
1) IMAGE SIZE: large size files are required, preferably saved at 300 dpi but no smaller than 72 dpi (dpi = dots per inch).   For more image information on dpi sizing please check this link
CONTENT:  Please note, we are accepting images with any subject matter that you find interesting (it may or may not represent your own or other people's artworks, holiday photos etc.)  
IMAGE TITLE: please provide a title for your image  
2) TEXT INFORMATION (this must be sent as a separate attachment in a word doc.)    
ONE SHORT STATEMENT: We are asking for a short statement(s) that reflect your experience or memory of your time at Western. Text length is restricted to 140 characters so this can possibly be mounted in the gallery or sent out via Twitter, which has a text limit of 140 characters.   
OR  
ONE WORD: if you prefer, you could instead send us just one word that encapsulates your experience at Visual Arts, Western.    
MORE DETAILS
YOUR JPEG PHOTOGRAPH AND TEXT SHOULD BE SENT AS SEPARARATE ATTACHMENTS.  
Exhibition Project Details: Past Forward September 4-29, 2017 Opening Reception: Saturday, September 16th from 7-9pm  
Photographs will be projected throughout the Department's Artlab Gallery space using ceiling mounted projectors and custom built screens. Texts will be incorporated on the gallery walls using various mediums. Some image/text contributions may also be circulated through the Visual Arts or Western websites and potentially could be included through social media outlets such as Facebook, Twitter, or Instagram.
All participants in the exhibition will be identified by name. Owing to the planned scale and inclusive nature of this exhibition we regret that we will be unable to provide artists fees.  
Opening Reception: All Visual Arts Alumni will be welcomed to a special opening reception on September 16th. 
Finally, if you are in contact with any other alumni we kindly ask that you forward this exhibition request on to others. We would like to be as inclusive as possible. We hope to hear from you soon!
More information will also be posted at this link as it becomes available. Stay tuned for more details this summer.