Media Lab & Sound Booth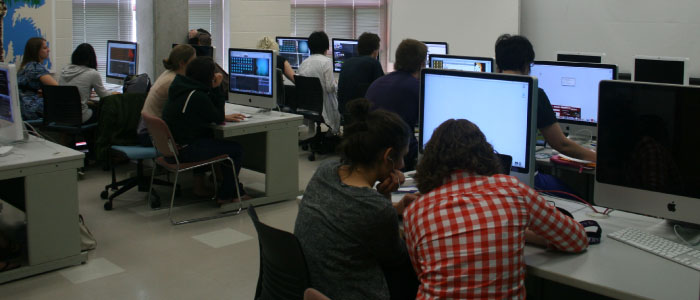 The main lab in the John Labatt Visual Arts building features Macintosh computers equipped with multi media software including: Adobe Premiere, Final Cut Pro, Dreamweaver, Photoshop, Director, DVD Studio Pro, Toast and a variety of other programs. Peripheral support includes: CD and DVD burning capability, flat bed and slide scanning. All of the lab computers are video and audio production compliant.
Full-time technical staff provide students and faculty with technical support. A stand alone sound lab equipped with external microphones, mixer, tape deck, Keyboard, CD player, and CD burner also provide students with an opportunity to record and mix audio.
Students also have access to a shared computer facility in the adjacent North Campus Building. The lab includes state of the art Macintosh computers with full video and audio functionality. Six adjoining pods offer graduate students and faculty more expansive research facilities for development of in-depth multi media and web projects.
Contact
Jennifer Slauenwhite
Digital Media Technician
jslauen@uwo.ca
(519) 661-2111 x86197
Office: VAC 135A
Hours of Operation
Open During Regular Building Hours*
Monday - Friday
8:00am - 10:00pm
Saturday & Sunday
noon - 6:00pm
*swipe card access is required to enter the lab. To obtain access, please contact the Digital Media Technician