Art in The Public Sphere Fall 2016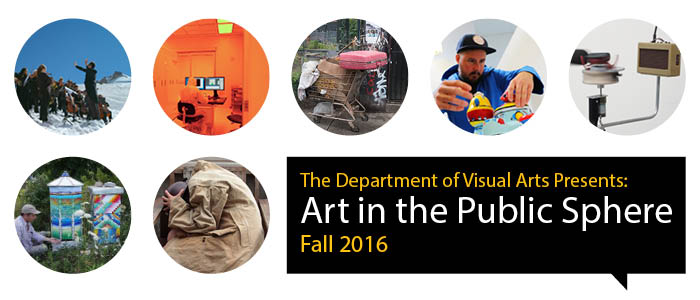 The Department of Visual Arts at Western University is pleased to present the Art in the Public Sphere series of speakers and exhibitions. This important series provides unique opportunities to engage with local, national, and international artists, curators, and scholars. All events hosted at Western University are free and are open to the public. The Fall 2016 series is organized by Prof. Susan Edelstein as part of ongoing academic offerings at the Department of Visual Art at Western University. 
Lectures are held at 7pm in the North Campus Building, room 113.
A full list of Upcoming Exhibition Can be found on the Artlab Website.
---
Paul Walde is an intermedia artist, composer, and curator. Walde's work suggests unexpected interconnections between landscape, identity, and technology.
Paul Walde is an intermedia artist, composer, and curator. Walde's work suggests unexpected interconnections between landscape, identity, and technology. Recent exhibitions of his work include: The View from Up Here at the Anchorage Museum (2016), Nature's Handmade at Museum London (2015) and All Together Now at the University of Toronto Art Centre (2014). Walde is a graduate of the University of Western Ontario (BFA) and New York University (MA).
In 2012 he relocated to Victoria, British Columbia, where he is Associate Professor of Visual Arts and Department Chair at the University of Victoria. Walde is a founding member of Audio Lodge, a Canadian sound art collective and EMU Experimental Music Unit a Victoria-based sound ensemble.
September 15, 2016, 7pm > NCB 113


---
Kasumovic's research is grounded in a photographic practice and visual analysis that investigates the spaces and material forms of current, global research projects such as The Centre for Nuclear Research (CERN) in Geneva, the Svalbard Global Seed Vault and The German Research Centre for Artificial Engineering (DFKI). He documents these spaces, and their instruments, emphasizing an analysis of images that complicates the material histories and cultures of science.
September 22, 2016, 7pm > NCB 113


---
James Kirkpatrick is a London Ontario based artist who works in a variety of media including; drawing, painting, avant-garde hip-hop, electronic music, sound sculpture, murals, zines, comics, and mask-making. His paintings and sculptures incorporate sculptural, kinetic, and auditory elements, combining 2D aesthetics with circuit-bent electronic toys.
October 6, 2016, 7pm > NCB 113

---
Marla Hlady draws, makes sculpture, works with sites and sounds and sometimes makes video. Hlady's kinetic sculptures and sound pieces often consist of common objects (such as teapots, cocktail mixers, jars) that are expanded and animated to reveal unexpected sonic and poetic properties often using a system-based approach to composition. She currently lectures in the Department of Arts, Culture and Media (UTSC) and is Graduate Faculty in Visual Studies (Daniels Faculty of Architecture, Landscape and Design, University of Toronto).
October 20, 2016, 7pm > NCB 113

---
Diane Borsato has established an international reputation for her social and interventionist practices, performance, video, photography, and sculpture. She has exhibited and performed at major Canadian institutions and in galleries and museums in the US, France, Mexico, Taiwan and Japan. She holds an MFA from Concordia University and an MA in Performance Studies from the Tisch School of the Arts at New York University. She is currently Associate Professor in Studio Arts at the University in Guelph.
Novemver 10, 2016, 7pm > NCB 113
---
In conjunction with the Artlab Gallery exhibition "Mountains & Rivers Without End" Art Now will host a discussion by artists and scholars about the role that socially engaged art can play in the arts and the social sciences.
November 17, 2016, 7pm > NCB 113
---
Kelly Wood is an Associate Professor in the Dept. of Visual Arts at Western. She is a photographer and practicing artist whose research focuses on subjects that relate to the environmental impact of waste accumulation, waste economies, and all forms of visible and invisible pollution. As an art practitioner and educator, she has a commitment to analogue and digital photography and contemporary art and art theory. Presented in collaboration with the McIntosh Gallery.
November 24, 2016, 7pm > NCB 113
Join us after the lecture for a reception of Kelly Wood's exhibition at the McIntosh Gallery.

---
Location & Parking
Please note that the location of the Art Now lectures has been moved to a higher capacity room in the North Campus Building (NCB-113). NCB is located just south of the John Labatt Visual Arts Centre (VAC). Metered parking is available in the parking lots between VAC & NCB. For more information or directions please see Western's Map Tool and search for "NCB".
Select Videos from the Speakers Series are now availible on YouTube.