Art in The Public Sphere Winter 2017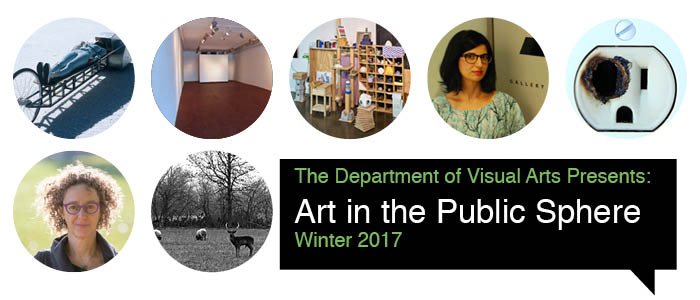 The Department of Visual Arts at Western University is pleased to present the Art in the Public Sphere series of speakers and exhibitions. This important series provides unique opportunities to engage with local, national, and international artists, curators, and scholars. All events hosted at Western University are free and are open to the public. The Winter 2017 series is organized by Prof. Christof Migone as part of ongoing academic offerings at the Department of Visual Art at Western University. 
Lectures are held at 7pm in the North Campus Building, room 113.
A full list of upcoming exhibition Can be found on the Artlab Website.
---
Events Include:
Artist-Run Centre Roundtable, January 26, 7:00pm, NCB 113 
With guest artists/curators Jenna Faye Powell (Forest City Gallery), Taylor Doyle and Sophie Quick (Good Sport) and Christine Negus (London Ontario Media Arts Association - LOMAA).

Vicky Moufawad-Paul - Director/Curator, A Space Gallery, February 2, 7:00pm, NCB 113 
Vicky Moufawad-Paul is a Toronto-based curator and writer. She is the Director/Curator at A Space Gallery. She has curated exhibitions at the Agnes Etherington Art Centre (Kingston), Carlton University Art Gallery (Ottawa), Gallery 101 (Ottawa), MAI: Montréal arts interculturels (Montreal), Latitude 53 (Edmonton), Contact Photography Festival (Toronto), InterAccess Electronic Media Arts Centre (Toronto), Prefix Institute of Contemporary Art (Toronto), A Space Gallery (Toronto), and 16 Beaver (New York City). She has an undergraduate degree from the University of Western Ontario and an MFA in Film and Video from York University. Vicky has published texts on several artists including Harun Farocki, James Luna, Emily Jacir, Wafaa Bilal, Mohammed Mohsen, Jacqueline Hoang Nguyen, Juan Ortiz-Apuy, Erica Lord, John Halak, Rehab Nazzal, Adam Broomberg, Oliver Chanarin, Akram Zaatari, and Yto Barrada.

Shelley Niro - Artist - Artist. Co-presented by the McIntosh Gallery, February 16, 7:00pm, NCB 113
Shelley Niro was born in Niagara Falls, NY. Currently Niro lives in Brantford Ontario. Niro is a member of the Six Nations Reserve, Bay of Quinte Mohawk, Turtle Clan. Shelley Niro is a multi-media artist. Her work involves photography, painting, beadwork and film. Niro is conscious the impact post-colonial mediums have had on Indigenous people. Like many artists from different Native communities, she works relentlessly presenting people in realistic and explorative portrayals. She graduated from the Ontario College of Art, Honours and received her Masters of Fine Art from the University of Western Ontario. Niro continues to produce work reflecting herself and her community. Shelley Niro was the inaugural recipient of the Aboriginal Arts Award presented through the Ontario Arts Council.

Simone Jones - Artist - Artist. OCAD University, March 2, 7:00pm, NCB 11 
Simone Jones is a multidisciplinary artist who works with film, video, sculpture and electronics. Jones graduated from the Ontario College of Art (OCA) with a concentration in Experimental Art and received her MFA in Sculpture Installation from York University in Toronto. Jones has exhibited her work at national and international venues.

Peter Flemming - Artist - Artist. Concordia University, March 9, 7:00pm, NCB 113 
Peter Flemming is a full-time artist, part-time professor and some-time curator in Montréal who exhibits and works internationally. Research interests include ad hoc architecture, intuitive physics, informal engineering, neurological computation, solar power, saunas. Flemming's work considers natural and technological ecologies, in site-specific installations and performances that are resolved intuitively and experimentally.

Helen Fielding - Women's Studies and Feminist Research, NEW DATE: March 23, 7:00pm. NCB 113 
Helen Fielding's expertise is in Twentieth Century Continental Philosophy, in particular feminist phenomenology, Merleau-Ponty, perception and phenomenological aesthetics. Some recent written and edited publications include: Cultivating Perception: Phenomenological Encounters with Artworks; Politics of the Sensing Subject: Gender, Perception, Art and Time in Feminist Phenomenology.

VSVSVS - Artist Collective and Artist-Run Centre, March 30, 7:00pm, NCB 113 
(pronounced VERSUS VERSUS VERSUS) is a six-person collective and artist-run centre based out of a warehouse in the Portlands of Toronto, Ontario. Formed in 2010, their activities encompass collective art making, a residency program, a formal exhibition space, and individual studio practices. Their collective work focuses on the collaborative production of multiples, drawings, video work, sculpture, installations, and performance. An open framework allows each member to play to their own interests and ends, while contributing to a common goal. Working with six heads is an experiment in being together too much and making things constantly. Members include Wallis Cheung, Ryan Clayton, Anthony Cooper, James Gardner, Stephen McLeod, and Miles Stemp.


For more detailed information see our events calendar.
---
Location & Parking
Please note that the location of the Art Now lectures has been moved to a higher capacity room in the North Campus Building (NCB-113). NCB is located just south of the John Labatt Visual Arts Centre (VAC). Metered parking is available in the parking lots between VAC & NCB. For more information or directions please see Western's Map Tool and search for "NCB".
Watch past Art Now! lectures on YouTube
Select Videos from the Speakers Series are now availible on YouTube.