Art in The Public Sphere Winter 2014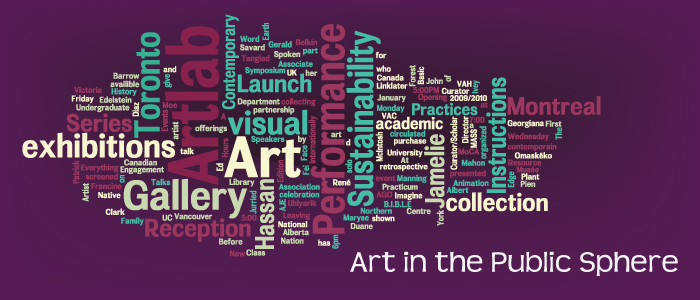 The Western University, Department of Visual Arts is pleased to present the Art in the Public Sphere series of speakers and exhibitions. This important series provides unique opportunities to engage with local, national, and international artists, curators, and scholars. All events hosted at the VAC are free and are open to the public*.
*The Daniel Barrow event hosted at Museum London requires the purchase of Tickets. Please see the event page for more information.
Daniel Barrow
Montreal-based Artist Daniel Barrow performs at Museum London:  "The Face of Everything, Live Animation"
Presented in partnership with Museum London;Tickets for this event available for purchase at Museum London
Thursday, January 16, 2014, 7:00 PM > Museum London
Ed Pien
Toronto-based Artist Ed Pien has shown work at the Drawing Centre, NY; the Victoria & Albert Museum, UK; and at the National Art Gallery of Canada.  He participated in the 18th Edition of the Sydney Biennale; and in 'Oh Canada,' at MASS MoCA.
Thursday, January 30, 2014, 7:00 PM > Conron Hall, University College rm 224

Francine Savard
Francine Savard is a Montreal-based artist. In 2009/2010 the Musée d'art contemporain de Montréal presented a retrospective of her work. Recent 2013 exhibitions include her fifth solo at Galerie René Blouin in Montréal, and her fourth at Diaz Contemporary in Toronto.
Thursday, February 6, 2014, 7:00 PM > VAC 100
Jamelie Hassan
Jamelie Hassan is a visual artist and activist based in London, Ontario. A survey exhibition of her work, 'Jamelie Hassan: At the Far Edge of Words,' organized by Museum London, London, Ontario, and the Morris and Helen Belkin Art Gallery, University of British Columbia, Vancouver, circulated nationally from 2009-2013.
Thursday, March 6, 2014, 7:00 PM > VAC 100
Gerald McMaster, Moe Clark & Dolleen Manning
Gerald McMaster, Curator / Artist (Philadelphia), Moe Clark, Spoken Word Poet (Montreal), and Dolleen Manning, Curator/Scholar (Toronto) Talks, Performance, and Book Launch, in celebration of the May 2013 exhibition, 'Gashka'oode: Tangled'
Presented in partnership with McIntosh Gallery, Western University; Forest City Gallery; and Native Women in the Arts (Toronto).
Thursday, March 13, 2014 6:45 p.m. > Conron Hall, UC 224
click here for more infomation

Duane Linklater
Duane Linklater is Omaskêko Cree, from Moose Cree First Nation in Northern Ontario who has exhibited and screened his work nationally and internationally at the Vancouver Art Gallery, Art Gallery of Alberta, Family Business Gallery in New York City & the Power Plant in Toronto.
Thursday, March 27, 2014, 7:00 PM > VAC 100