Student Wellness

Your mental wellness should be a top priority as you work through your academic adventure at Western! Since we cannot do in-person "Wellness Wednesdays" anymore, our focus will be to provide you resources, tips, tricks, and motivation to help your overall mental wellness. This page will be updated frequently!
We know that right now is an especially stressful time, however, we hope these resources will help you continue to navigate your success.
Wellness Video: Mindfulness & Meditation
Further Information:
Science Students' Council Wellness Events
Event: The Subtle Art of Becoming a Better You
Don't have the time to read a self-help book and university is taking a toll on your mental well-being and relationships? With the help of Peer Support, Science Academic Counseling, the Canadian Mental Health Association, and Good2Talk we are providing you with an hour-long webinar where you can take away JUST as many tangible skills and strategies to become a better you as reading a self-help book! Come out to "The Subtle Art of Becoming a Better You" on Wednesday, March 3rd at 6 pm to learn useful tips and resources on becoming a more avid listener, a more attentive friend, a better student, and overall, a better you!
We welcome any concerns, questions, or worries that you may have and they can be asked anonymously during the Q&A session with all our speakers at the end! You will also have a chance to enter a raffle to win $25 Amazon gift cards!
Zoom link: https://westernuniversity.zoom.us/j/92558030576 
Previous and Ongoing Events
This week, we will be a part of the panel for The Subtle Art of Becoming a Better You event being hosted by Science Students' Council. Join us for the event! See details in the Science Students' Council Event section below.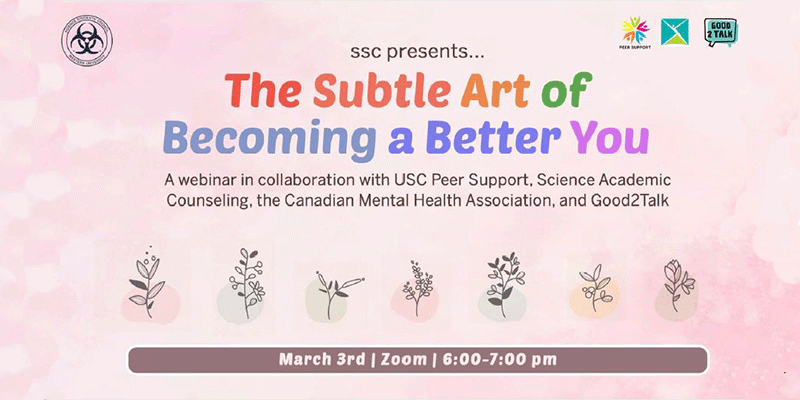 Laugh the stress of midterm season away with an empowering and inspirational evening featuring renowned comedian Big Daddy Tazz! This "Stand Up against Stigma" wellness event is guaranteed to have you laughing but also speaks to destroying the stigma around mental illnesses and empowering you to recognize the power within yourself. This event isn't one to miss so make sure to grab your friends and join us on FEB. 24 from 7-8 for an amazing night! See the Facebook Event: Stand Up Against Stigma.
Zoom link: Join Zoom Meeting https://westernuniversity.zoom.us/j/93401410780 Meeting ID: 934 0141 0780 One tap mobile +16475580588,,93401410780# Canada
Western Perspective Project Covid-19 Edition. Campaign Launch (via Facebook).
The Science Students' Council is back again with the Western Perspective Project, a year-long campaign to promote mental health awareness, spark conversation with students, and change the culture surrounding the struggles we experience in university. Our very first theme for this year is surrounding the struggles of COVID-19.
COVID-19 has brought with it unique struggles for most of us. We have been fighting against a pandemic to keep ourselves, our loved ones and our community safe. The fight has not been easy for most of us, and adapting to the constant changes has brought with it unique obstacles and challenges. However, through the project we want to highlight that you are not alone in the struggles that you have been experiencing over the past few months.
Many students fear that they are alone in the issues they experience during university, which is a mindset that needs to change. Overcoming the cultural fear of struggling and understanding that we all have difficult times can offer a valuable opportunity for reflection and growth. Each week in November, we will be sharing stories from your peers and professors that shed light on experiencing or overcoming difficulties during COVID-19. The Wellness Committee hopes that seeing these stories will open similar conversations in your own personal life and further strengthen networks of support within the Western Community.
Resources
Western Resources
General Resources
Checklist
Need a little refresher on improving your emotional health?
Stay connected with our office – we are here for you.