How To Apply
First Time Applicants and Internal Candidates (see below)
First Time applicants to the University and prospective students not currently attending Western must first make normal application to Western University through the Ontario Universities' Application Centre www.ouac.on.ca. The BFA program is clearly distinguished on the OUAC application form under the code EAV "MN: Fine Arts - Studio (portfolio required)":
---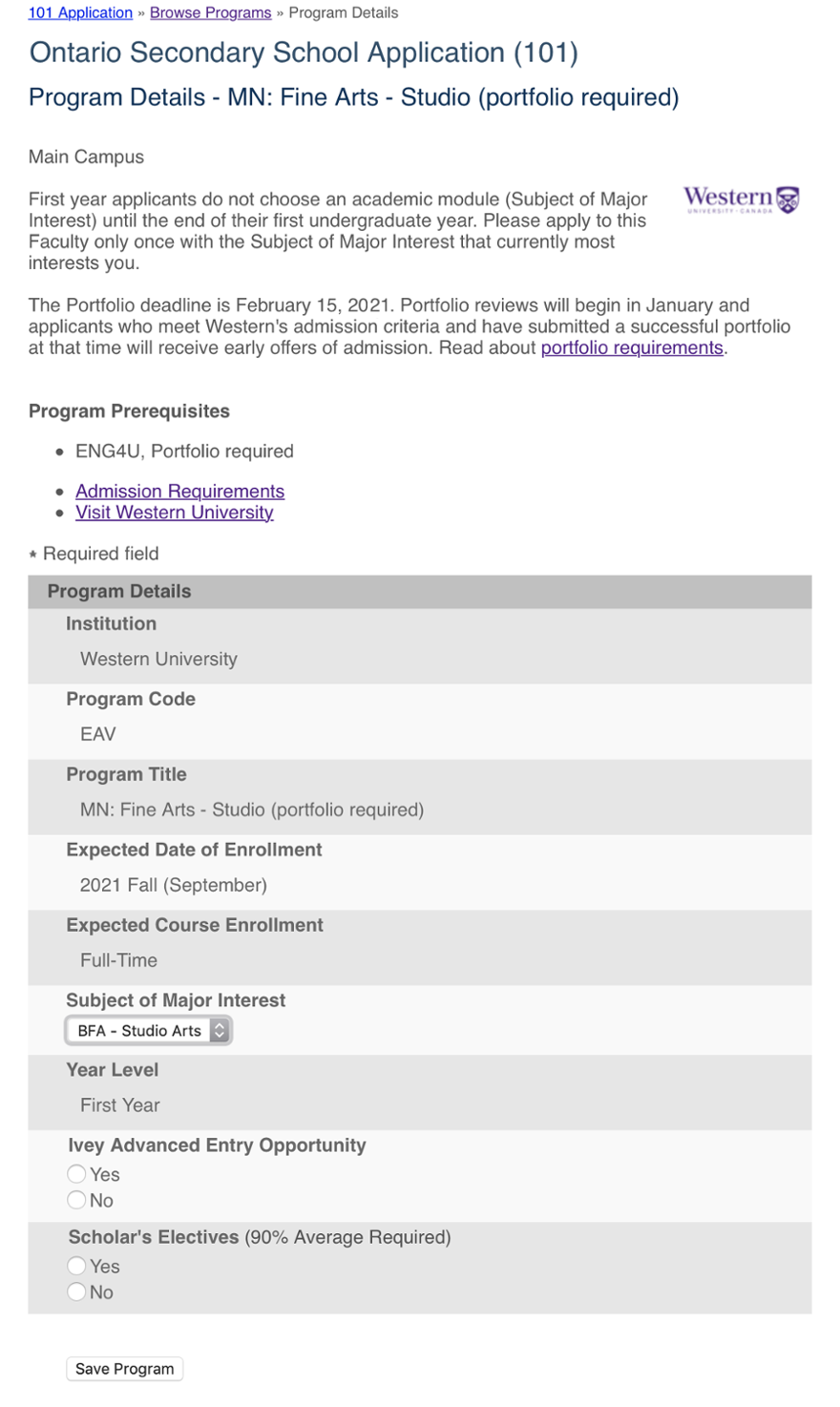 ---
Students should then follow the Visual Arts web link on the OUAC form to go directly to the Department of Visual Arts website www.uwo.ca/visarts/undergraduate/bfa/portfolio_requirements.html to obtain specifics regarding the portfolio requirements, evaluation criteria, and timelines.
BFA Portfolio Requirements
All prospective BFA students are required to submit a digital portfolio and personal statement via SlideRoom by February 15. Portfolio reviews will begin in January. Applicants who meet Western's admission criteria and have submitted a successful portfolio at that time will receive early offers of admission.
Prospective students who apply to the"MN: Fine Arts - Studio (portfolio required)" program on the OUAC website are strongly advised to also apply to the "MN: Arts and Humanities with Subject of Major Interest Visual Arts" program.
Internal Candidates
Current Western Students who have successfully completed (or are completing) VAS1020 or (SA 1601) and who wish to apply to the BFA program must upload a digital portfolio and personal statement via SlideRoom by March 29th, 2021.
Portfolios will consist of 12 pieces of recent artwork demonstrating a range in subject matter, approaches, techniques or media.
In addition to traditional two and three-dimensional work, examples of digital video, audio and photographic media are welcomed.
At least four of the pieces should provide examples of a sustained exploration or development of a creative idea. This could be through four different works sharing a single theme, or through a series of studies relating to preparation of a final work.
A $12 USD fee will be charged at the time of submission. Please note that there are several programs listed at our SlideRoom portal; it is very important that you upload your images into the correct program that you are applying for, BFA - Internal Candidates (for current Western University Students) 2021.
Portfolios including video and/or audio works should not exceed five minutes
Applicants may upload images (jpg, png, gif) or video (mov, wmv, flv, mp4), music (mp3) and one PDF document. For good image quality and fast upload, your image files should be sized around 1024 x 768px @ 72 dpi.  Please keep video files under 120MB each and 2 - 3 minute clips, up to 5 minutes in total. Our SlideRoom portal offers additional instruction for submitting your work. For technical assistance, contact support@slideroom.com
The portfolio should be organized in chronological order and emphasize recent works.
Applicants will also be asked to include a personal statement via SlideRoom. Your statement should be 250-500 typed words and indicate creative interests, influences and goals.