Research
Graham and Gale Wright Award
Wayne Myrvold has been awarded the 2017 Graham and Gale Wright Awards. This Faculty-based award recognizes their significant contributions as internationally recognized researchers.
---
By Jason Winders, Western News, September 01, 2016
Charles Weijer, Philosophy, was named Fellow of the Royal Society of Canada. Weijer is the world authority on the ethics of randomized controlled trials. His publications on placebos, harm-benefit analysis, and protecting communities in research are broadly influential. He co-led a team that produced the first ethical guidelines for cluster-randomized trials. In 2008, he founded the Rotman Institute of Philosophy, dedicated to engagement between philosophers and scientists, and served as its first director. Read the full article.
---
By James Purtill, Australian Broadcasting Corporation, July 23, 2016

Louis Charland
 shares his views about disorders and addictions being treated as passions. Read the full article
---
By Leiter Reports: A Philosophy Blog, May 28, 2015
Charles Weijer and Stathis Psillos from the Rotman Institute of Philosophy are listed among the top 85 most-cited living philosophers worldwide, according to the popular philosophy blog The Leiter Reports. Read the full article.
---
By Adela Talbot, Western News, January 30, 2014
Chris Viger is sowing the seeds of a revolution. "What we philosophers do is often far removed from anything practical," Viger said. "So it seemed to me an important opportunity to take advantage of." Read more
---
Western-led team delivers world-first ethics guidelines
By Jason Winders, Western News, November 21, 2012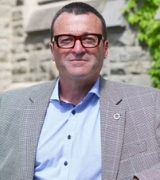 Led by Charles Weijer of Western's Rotman Institute of Philosophy, in association with Jeremy Grimshaw and Monica Taljaard of the Ottawa Hospital Research Institute, an international team of researchers has issued world-first ethics guidelines governing cluster randomized trials (CRTs). The Ottawa Statement on the Ethical Design and Conduct of Cluster Randomized Trials provides researchers and research ethics committees with detailed guidance on the ethical design, conduct, and review of CRTs. Published in the current edition of PLoS Medicine, this marks the first time dedicated ethical guidelines have been established for CRTs. It is expected these recommendations will become part of research ethics policies and practice around the world. Read more