Current phase of Open Space Strategy focuses on UC Hill

Summer construction paves way for enhanced learning, working spaces
Projects to highlight campus natural beauty, space for leading-edge innovation

by Facilities Management Communications Staff
Western's campus is being transformed this summer with a number of construction projects that will highlight the natural beauty of campus and add leading-edge learning spaces. 
Work over the coming months includes enhancements to the landscape west of the Music Building and north of the International & Graduate Affairs Building (IGAB), as part of Western's Open Space Strategy. It will include a rain garden, mixed seating and gathering spaces, similar to the work completed along Kent North last fall.  
Expected to be completed by September, this project will also focus on creating barrier-free amenities, said Fred Janzen, director of capital projects. 
"All the new paths will be fully accessible. This area is going to contribute to the beauty of campus and expand functional outdoor spaces for everyone," said Janzen. 
Launched in 2018, the Open Space Strategy is designed to accommodate future growth and create outdoor space that augments mobility across campus and prioritizes pedestrian and cyclist safety.
Construction Resources
Western News Article (May 2022)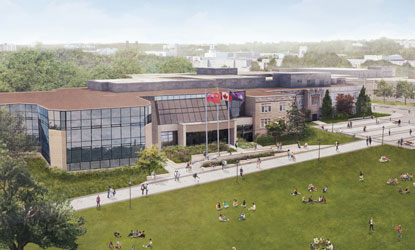 Project Scope:
Builds on Western's Open Space Strategy to accommodate future growth on campus while making campus more friendly to and safer for pedestrians and cyclists. More memorable, welcoming, beautiful, functional, safe, sustainable public spaces that embed stewardship into the landscape; gateways that bring people into Western and send Western out into the world.
Project Duration:
Construction: May 2022 - Fall 2023

Project Locations:
Construction will extend along the north side of International & Graduate Affairs Building and west of Music Building and Talbot Building. The project will impact walkways and entrances to surrounding bulidings.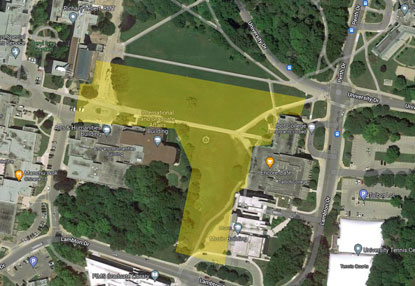 Images of project progress - August 2022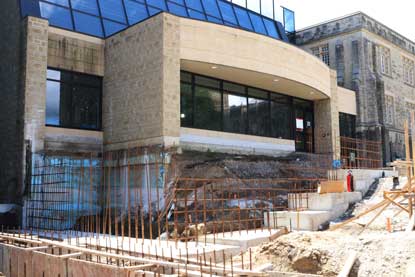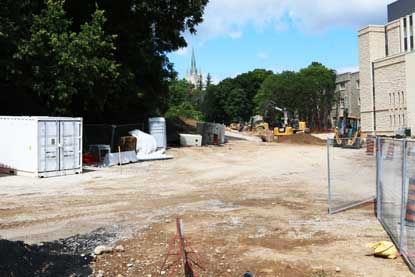 June 2022