University Drive Bridge

Reimagining University Drive Bridge
The University Drive Bridge was built in the early 1920's as one of the first structures constructed on campus. The bridge crosses the North Branch of the Thames River, carrying a mixed use of vehicular and active transportation. Given the age of the structure and growing campus population, Western, in partnership with its consultant, BTE-Entuitive, have initiated a Municipal Class Environmental Assessment (MCEA) Study.

The Study will consider how to provide a structure that can address the active and vehicular transportation requirements of a growing campus, while respecting the 100-year old landmark character of the bridge framing the view to the Middlesex County Memorial Tower at University College.  
Questions or Comments?
There is an opportunity at any time during the MCEA process for interested persons to provide comments. Please share your questions or comments about the University Drive Bridge by emailing westernubridge@uwo.ca and a member of the project team will be in touch with you.

All information will be collected in accordance with the Freedom of Information and Protection of Privacy Act (2009). With the exception of personal information, all comments received during the MCEA will become part of the public record.
Resources
Timeline:
Public Information Centre 1
PIC 1 November 17, 2022.
Public Information Centre 2
PIC 2 is Fall 2023 to present the alternative design concepts for the recommended solution.

Final Environmental Study Report
The final outcomes of the consultation will be documented.
Project Location:
University Drive Bridge is located on University Drive spanning the North branch of the Thames River.

Documents:
• University Drive Bridge PIC 1 (Nov. 17, 2022)
• University Drive Bridge PIC 1, Questions & Answers
Images: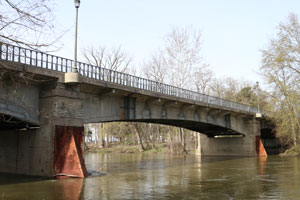 Photo: University Drive Bridge [Summer 2022]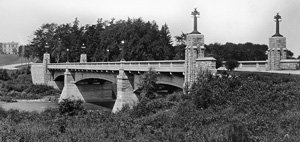 Photo: University Drive Bridge [1937]