Somerville House Renovations

Bright and open student space

The completed project will retrofit the space around and including Lucy's eatery. The result will be an open indoor space. The new student hub will create greater attraction to the heart of campus where people can gather, eat, study.
The project will feature a large open common space, large lounge, three private study rooms; fully accessible space including seating, ramps, washrooms, and an elevator that provides access to all three floors, including to the Great Hall. Lucy's eatery to be updated and other, more diverse food options will be added.
 "I don't think we have a lot of under-utilized space like this at Western. We're taking this space out of the 1970s and I think people will love what this is becoming," - Elizabeth Krische, AVP, Facilities Management.
Construction Resources
Western News Article (August 2021)
Project Scope:
The completed renovation will create a new multi-purpose indoor student hub in the heart of campus where people can gather, eat, study.
Project Schedule
Construction: May - Fall 2021
Project Location:
Construction will be confined to the interior of Somerville House and may impact surround walkways and building entrances.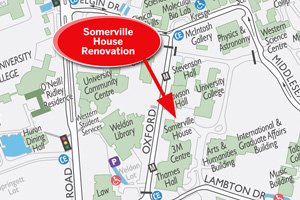 Construction images