Alumni Stadium Renovations
Alumni Stadium Renovations (TD Stadium)

Capital investment in student sport
At the recent Western Board of Governors Meeting on April 22, the University approved the 2021-22 budget which included some significant investments in Western Sport and Recreation facilities. The Western Mustangs are very excited about this announcement and pleased that we will be seeing investment in areas that will impact student well-being and safety, improve sustainability, as well as improve the flexibility of use.
There will be major improvements made to TD Stadium, including updates to the lights, bleachers, track, and turf.
Mustangs Football Head Coach, Greg Marshall, talked about the major impact these improvements will have for the Western community.
"The renovations to TD Stadium will have an incredible positive impact on our sport programs at Western. The new state-of-the-art playing surface will increase both performance and player safety. New artificial surfaces have significantly improved since we put in our last installation almost 15 years ago. The updated lighting and bleachers will benefit our student-athletes as well as improving the game day experience for our students, faculty, staff, and fans. I'm looking forward to getting to playing this fall and welcoming all of our fans as they come to check out the new improvements to our facility. I want to thank the university for their continued support and investment in our sport and recreation programs here at Western."
Jenna Schultz, Western student, and Intramural participant and Team Leader, stressed how important upgrades to TD will be for students. "Intramurals are integral to student community, mental and physical health; therefore, upgrades to the stadium would be extremely beneficial. [Western Sport and Recreation] run Intramurals 6 days a week, well into the evening, so functional lights and a safe turf field is important. Students love playing at TD stadium, there's nothing quite like an evening game of flag football under the lights! Upgrades to the field, bleachers and lights will help improve overall student well-being by helping to encourage safe and fun physical activity, and creating a sense of community for the students."
source: Western Mustang Athletics
Construction Resources
Renovated stadium is renamed (WN, Oct 2, 2021)
Project Scope:
TD Stadium track, turf, bleachers, and lighting will be enhanced and renewed to meet the needs of Mustang Athletics.
Project Schedule
Turf: May - June 2021
Track: June - August 2021
Bleachers: August - September 2021
Lighting: Late Fall 2021
Project Location:
Construction will be confined to the stadium and Huron Flats parking lot.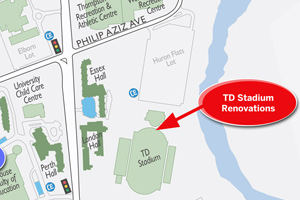 Construction images