Become a Content Contributor

This space is only as engaging, vibrant, and entertaining as the voices within it. We need your help to make it shine! Thrive online is an interactive space for students to voice what matters to them so that they can co-create an online place where they can thrive. Content is developed for students, by students with the help of staff who play a role in supporting students' experiences. Thrive online aims to create authentic connections among the Western student body and between students and the university to enhance, highlight, and effect positive change within the broader context of students' experiences.
You can write about anything you are interested in or passionate about. And we're not looking for your best academic writing - this is a place for you to talk to other students. The best posts are ones that share a bit of yourself, the same as the best ways to build relationships are to share your personal stories.
So let this be your playground.
Values
Students have a strong voice and presence in their relationship with Thrive Online. There is active learning, brave conversations, and authenticity in all of our interactions. Through these interactions, we can better understand who we are together. Our mutual values are: joy, courage, curiosity, equity, decolonization, empathy, hope, humility, and integrity.
A Thriving Content Strategy
Thriving is a researched framework of five factors that have been shown to contribute to well-being. These five factors are positive perspective (optimism about the future), academic determination (investment of effort to reach educational goals), engaged learning (engagment in the process of learning), social connectedness (healthy connection to others), and diverse citizenship (committment to making a difference in the world).
These fall within three categories of intrapersonal, academic, and interpersonal thriving. We have mapped our content goals to these factors to ensure that Thrive Online is working from research and best practices to make a positive impact on the Western community, with students as full partners in its creation.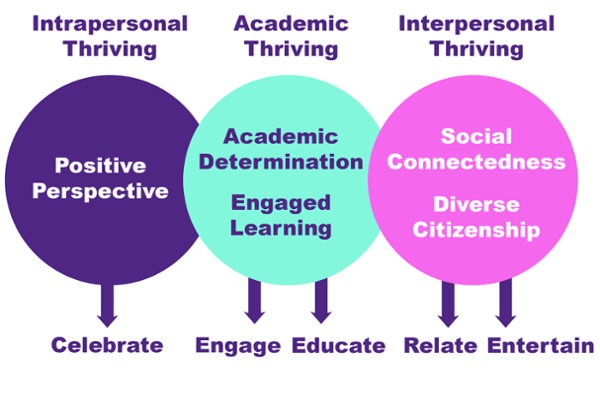 Content Goals
Thrive Online content is intended to help students:
Celebrate: We want our audience to share in the joy of successes shared by other students. This focuses on intrapersonal thriving, including positive perspective.
Educate: We want to inform students about issues, events, conversations, etc. that may be meaningful and relevant to their lives. This focuses on academic thriving, including academic determination.
Engage: We want to deliver content that is diverse, relatable, and interactive. This also focuses on academic thriving, including engaged learning.
Entertain: We want our content to be fun and exude Western pride. This focuses on interpersonal thriving, including social connectedness.
Relate: We want to reach the entire community of Western students. This focuses on interpersonal thriving, including diverse citizenship.
There are five ways you can contribute to Thrive Online:
Scholars' Life is an initiative run by students in the Western Scholars' and Scholars' Electives programs to make their voices heard within the greater Western community, and to showcase their writing and artistic talents.
Scholars' Life
encompasses two major segments: the annual print magazine, and an online blog segment housed on Thrive Online. All content is created by the students in the Scholar's Electives and Western Scholars programs to showcase their academic and creative talents.
Previously Showcase Magazine, the Scholars' Life print magazine provides all Scholars' programs students the opportunity to have their writing, essays, and artwork published in an annual issue.
In contrast, the online segment of Scholars' Life is a platform for students to get creative and explore the world of non-academic writing. Students write articles commenting on social issues, politics, and popular culture for publication online. The purpose of this project is to encourage students to voice their opinions through a journalistic approach, and to share their experiences with members across the Western community.
Scholars' Life seeks to inform the public about the Western Student Experience, on-campus, in the community, and in the world. If you are interested in submitting an article for publication in our print magazine or online, please reach out to scholars_publications@uwo.ca or visit our Facebook page to find out more, Scholars of Western.
You can have your story shared as a collaboration between Thrive Online and Humans of Western! Due to COVID-19 restrictions, Humans of Western is conducting interviews through an online format. If you wish to have your story shared and featured on our page, please fill out the
following form
.
In addition to writing, are you interested in helping us build this space? We need students to lead the way and provide direction on how this community evolves. You can be part of online meets where we discuss content strategy, recruitment, promotion, and more. Email
thriveonline@uwo.ca
 to volunteer!
If you have a great idea, but you're not looking for an involvement commitment, you can submit your posts a la carte! Just use the content submission form and send us your posts as you write them. Or, if you have questions, you can email
thriveonline@uwo.ca
 and we'll be back in touch to work with you on getting your work posted.
If you have to write a blog for a class assignment, why not also submit it to be posted here! Or, if you had an idea from class that you think would make good content for Thrive Online, then submit using the form below or by sending an email. This could be a great way to get your work out there!
Review the Content Creation Guide
We've created a guide to help you write your best - please read it before submitting a post (it's short, we promise!).

Submit a Post
---
Published on