About Us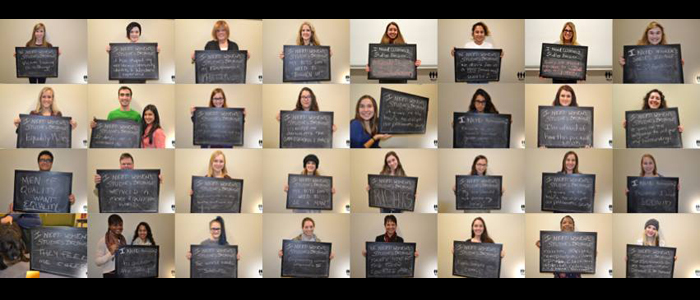 The Department of Women's Studies and Feminist Research has recently changed its name to the Department of Gender, Sexuality, and Women's Studies (GSWS). This new name better reflects the scope of our curriculum and research interests. It is a long time since the department's focus was solely on women's issues, so the name change reflects the development of the department's research and teaching interests into the areas of gender, including trans and non-binary genders, and sexuality. It will also help students to better understand what the department does and what our courses are about and is more inline with provincial high schools' offerings in Gender Studies. GSWS is a dynamic and interdisciplinary department that focuses on issues of social justice and equality. Our expertise encapsulates a wide array of strengths across feminist theory and various feminist approaches to health studies, media studies, history, globalization and development studies, critical race theory, philosophy, law, writing studies and literature, visual culture, as well as significant work in queer theory and sexuality studies. In our teaching and scholarship, we aim to cultivate engaged, informed, socially conscious citizens, able to constructively address issues of oppression, systemic and institutional disadvantages, and structures of privilege—often invisible—in the local and global society.  We provide our students with the analytical and practical tools that enable them to engage critically and responsibly with the world, to interact respectfully with others, and to pursue a variety of career paths.
We are one of only a few units across the University recognized as a Department in both the Faculty of Arts and Humanities and the Faculty of Social Science. Further, we have a rich network of Affiliate faculty members appointed in many other departments across Western who are integral members of our learning community. We also promote feminist scholarship through provision for resident scholars, a Distinguished Speakers Series, faculty colloquia, annual conferences (including a graduate conference, and Flaunting It!, our annual undergraduate conference on gender and sexuality). We also have an active and lively Gender Studies Students' Collective, which organizes talks and social events and annually publishes selected undergraduate essays in Tulips. 
Equity Statement
The Department of Gender, Sexuality, and Women's Studies at Western is committed to inclusivity and equity in all aspects of departmental life and therefore welcomes students of all genders and gender identities, races, ethnicities, sexual orientations, classes, abilities, and other dimensions of diversity. Faculty, staff and students constantly strive to create an atmosphere that is cognizant and respectful of diversity in all of its forms.