Current courses
2023-2024 FALL/WINTER COURSES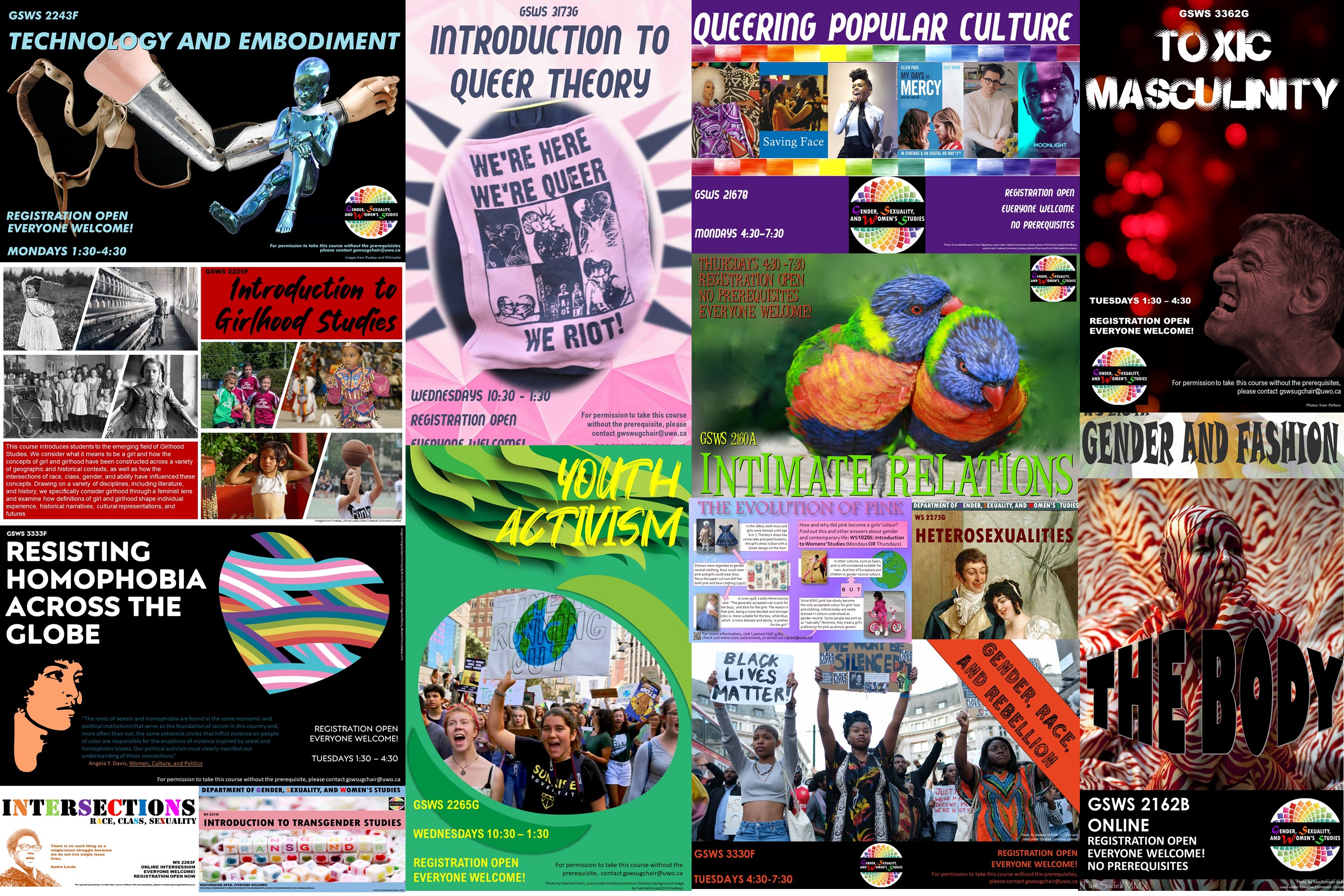 Please refresh this page often as changes are made everyday. For any questions and special permission requests, please e-mail the department at wsfr@uwo.ca
GSWS 1020E INTRODUCTION TO GENDER AND WOMEN'S STUDIES
This course is an introductory and interdisciplinary survey of the diverse and changing roles of gender, sex, and sexuality in contemporary society. Together we will tackle several questions over the course of the year, including: How do gender and women's studies contribute to our thinking of particular issues, institutional practices, and changing global dynamics? How do principles of feminist thought allow us to navigate controversial issues, including those related to tensions or exclusions in resistance movements? What are the possibilities and responsibilities of local and international feminist interventions for social justice?
We will explore, among other topics, the following: challenges to the sex- and gender binary, including transgender, non-binary, and intersex identities; intersectionality and solidarities across gender, race, class, and ability; constructions of masculinities and femininities; the operation of state power on gender, sexual, and other minorities; colonialism and Indigenous resistances; and activism and protest, including through literature and art. Above all, in this class, we will strive to make connections between our everyday lives, global structures, and the work for gender equality, equity, and freedom.
| | | | | |
| --- | --- | --- | --- | --- |
| Fall/Winter | 1020E 001 | Laura Cayen | 2 hr class plus 1 hr tutorial | Previous course outline |
| Fall/Winter | 1020E 002 | Kim Verwaayen | 2hr class plus 1 hr tutorial | course outline |
GSWS 1021F INTRODUCTION TO SEXUALITY STUDIES
This course is an interdisciplinary half-year course that will introduce students to the field of sexuality studies. It will examine this field through several different approaches: theoretical, literary, visual, cultural and historical. The aim will be to explore questions of identity and representation as they relate to sexuality: how are sexual identities formed? Are they essential or constructed? Who controls representations of sexuality? Why do we think of certain sexualities as normal and others as deviant? Within this context, we will analyze how certain expressions of sexuality are socially excluded and devalued in the name of a sexual norm.
GSWS 1022G GENDER, JUSTICE, CHANGE
The 21st century is a period of accelerating change focused around issues of gender, justice and activism. This interdisciplinary course will introduce students to the ways in which movements for justice and change are informed by and take up gender issues in struggles for social justice, economic empowerment, education, health, poverty alleviation, human rights, environmental protection, peace-building, good governance and political representation. A variety of case studies and examples will be used to highlight the ways in which women and other marginalized groups organize and agitate for change, resist oppression and theorize the concept of justice.
GSWS 1023G GAY LIFE AND CULTURE IN THE 21ST CENTURY: BEYOND ADAM AND STEVE
Modern gay identities are defined by their integration into liberal capitalism and multicultural democracy. A once marginalized group now benefits from unprecedented social mobility. This course will survey the impact of a shifting market and new federal policies on topics like the social politics of gay spaces, gentrification, art and culture and more. Students will gain a historical understanding of gay culture and an interdisciplinary set of texts to analyze an ever multiplying set of identities that fit within gay culture. By the end of this course, students will be introduced to topics in gay and lesbian studies, queer theory and gender studies and have a set of critical tools to approach these topics from music studies, political theory and sociology.
GSWS 1024F INTRODUCTION TO EQUITY, DIVERSITY AND HUMAN RIGHTS
This introductory course surveys theory and practice in the fields of equity, diversity, and human rights. The course addresses how equity, diversity, and human rights policies and practices respond to social difference and relations of power; as well, we will examine arguments about multiculturalism as a strategy to promote social inclusion, the rights of minoritized groups, and the politics of affirmative action. Towards these goals, we will take up readings about these issues from disciplines such as: anti-racism, feminism and gender studies, sexuality, disability, education, and legal studies. This also includes discussions of relevant case studies that highlight contemporary debates. Therefore, from different vantage points, the course examines some of the following questions: How are equity, diversity and human rights shaped by political and state interests? What are (some of) the limits and possibilities of institutionalized, liberal approaches to equity and diversity? What are human rights and what does it mean to have such rights? And how are these rights contested and protected?
GSWS 1030G INTRODUCTION TO BLACK STUDIES
Black Studies is comprised of the knowledge production practices and worldviews among African and African descendant peoples across the globe. It is rooted in rich histories, cultures, and philosophies that have given rise to anti-colonial, anti-racist, the Negritude, Pan-African and civil rights movements, including #BlackLivesMatter. This survey course introduces students to foundational debates, ideas, and practices in the Black intellectual tradition. With an emphasis on interdisciplinarity, course materials include book chapters, journal and magazine articles, music, film, art, and poetry. We will locate contemporary topics (e.g., identity, aesthetics, gender, race, sexuality, and popular culture, etc.,) in historical frameworks, with a focus on resilience and resistance in Black life. The purpose of the course is to deepen our understanding of how social, political, economic, and cultural issues are taken up in the Black intellectual-activist tradition.
GSWS 2160B INTIMATE RELATIONS: SEX, GENDER AND LOVE
Intimate Relations focuses on how expectations of intimacy and relationships rely on particular understandings of love, sex, sexuality and bodies to shape how we experience ourselves as gendered and sexual beings. The course considers how intimacy (sexual, maternal, familial, affectionate) is understood in relation to history, philosophy, health, society and popular culture. No prerequisites.
GSWS 2161A/B WOMEN AND POPULAR CULTURE: GARBO TO GAGA
How are women represented in popular culture? Women's images in the media, from newspaper and magazines to television, film and music videos produce particular notions of what it means to be a woman, be feminine, etc. We will examine both the historical and contemporary roles of women in popular culture. No prerequisites.
GSWS 2162A THE BODY
We will examine social and scientific constructions of the body, including concepts of beauty, health, fitness, sexuality, and questions of representation. Among other things, we may examine particular social problems, such as technologies of the body and bodily modification, ideas of health and illness, society's difficulty with understanding the disabled body as sexual, the cultural obsession with body size, psychiatric and medical responses to people who feel that their bodily sex does not match their gender, changing ideas about beauty and attraction, and artistic conceptions, representations, and alterations of the human body. No prerequisites.
GSWS 2163A SEX, HOW TO: SEX EDUCATION, ITS HISTORY AND CONTROVERSIES
Sex education is a controversial topic; should we even be teaching people how to have sex or how not to have sex? This course traces the history of sex education and its many controversies as well as looking at contemporary sex education practices both locally and in an international context. No prerequisites.
GSWS 2164A GENDER AND FASHION
This course is designed to give students an introduction to the role played by fashion in the construction of gendered identities (in addition to learning about fashion history, fashion in relation to sexuality, and fashion as identity). Topics to be covered include: what clothing can tell us about empire, gender, sexuality, class, race, industry, revolution, nation-building, identity politics and globalization; fashion as art; drag queens and kings; fashion and sustainability; fashion journalism; the metrosexual; the history of the stiletto; veiling; and fashion subcultures such as goth and punk. We will also examine the trends of athleisure, anti-fashion, slow fashion, and normcore.Although the focus of much of the course will be on Western fashion, we will also look at Asian and African designers and influences (Harajuku fashion, Pei and Yamamoto; hip-hop andThe Black Panther), as well as indigenous fashion. No prerequisites.
GSWS 2167B QUEER(ING) POPULAR CULTURE
How are Queer individuals represented in popular culture? Images of 2SLGBTQ+ individuals in media, including news, film, and television, produce particular ideas of queer identity. This course examines the historical and contemporary presence of queer individuals within popular culture and popular culture produced for and by 2SLGBTQ+ people. No prerequisites.
GSWS 2168B FROM DU BOIS TO BLACK PANTHER: BLACK POPULAR CULTURE  NEW COURSE!
Black popular culture is concerned with pleasure, enjoyment, and amusement and is expressed through aesthetic codes and genres. Drawing on literature, film, music, visual art, and television, this course examines examples of popular culture created by and for Black individuals to consider Black cultural values, beliefs, experiences, and social institutions.

| | | | | |
| --- | --- | --- | --- | --- |
| Winter | 2168B | TBA | Online asynchronous | Course outline |
GSWS 2170B AFROFUTURISM  NEW COURSE!
Coined in 1994 by Mark Dery, the term Afrofuturism refers to a Black aesthetic centred around imagining futures for Black people. Students will encounter Black writers, musicians, artists, and filmmakers, from Octavia Butler to Sun Ra to Janelle Monae to Jordan Peele, whose work envisages Black futures.
| | | | |
| --- | --- | --- | --- |
| Winter | 2170B | Katrina Younes | Course outline |
GSWS 2171B OUT OF LEFT FIELD: GENDER AND SPORT (previously 2246A)  NEW COURSE!
This course examines sport from a critical feminist perspective. We will examine commonly held assumptions about the human body, while considering how gender, race, sexuality, and culture, among other topics, influence our understanding of sports as well as how athletes are positioned as celebrities and their impact on popular culture.
| | | | | |
| --- | --- | --- | --- | --- |
| Winter | 2171B | Cornel Grey | Online asynchronous | Previous course outline |
GSWS 2203G FUTURE SEX: SEX AND SCIENCE FICTION
Beginning with cutting edge contemporary practices, from sex reassignment surgery to virtual reality, this course will look at the ways in which we imagine the future of gender and sexuality. The focus will be primarily on science fiction texts that provide interesting alternatives to present-day ideas about sex and sexuality.
GSWS 2205G MAKING MEN: CRITICAL STUDIES IN MASCULINITY

In emphasizing the social construction of manhood and masculinity as constitutive of the enormous capital that men command, this course aims to advance a critical view whereby such concepts are seen not as impenetrable bastions of historically oppressive power, but as privileged nodes that have been instrumentalized within discursive ideological networks. Through an examination of diverse media sources (literature, film, art, critical journalism, news articles, music, etc.) and their treatment of issues like guy culture, male body image, homosociality, aggression, family, success, and male sexuality, this course encourages the centrality of critical reflection in understanding the oftentimes violent negotiation of masculinity across various intersectional sites, and how those dynamics are refracted in men's relationships with themselves, other men, women, and institutions. No prerequisites.
GSWS 2212G GENDER AND THE FUTURE OF WORK NEW COURSE!
This course mobilizes intersectional, decolonial, feminist, and anti-capitalist scholarship to understand transformative changes to paid and unpaid work, caused by multiple factors such as technology, demographics, climate change, pandemics, and globalization, and their effects upon gender equality and social justice.
GSWS 2220E FEMINIST THEORY AND PRACTICE ACROSS THE DISCIPLINES
(Required 2nd yr. theory course)
An examination of the implications of feminist theories and practices at work in many different disciplines, including arts, media, social sciences, health sciences, science, law. We introduce students to theoretical concepts and ask questions about the ways sex, gender and sexuality are understood and researched from a range of perspectives.Prerequisite(s): GSWS 1020E, or 1.0 course from GSWS 1021F/G, GSWS 1022F/G, GSWS 1023F/G, GSWS 1024F/G.
GSWS 2225F INTRODUCTION TO GIRLHOOD STUDIES
In this course, we will consider what it means to be a girl and how the concepts of girl and girlhood have been constructed across a variety of geographic and historical contexts, as well as how the intersections of race, class, gender, and ability have influenced these concepts. Drawing on a variety of disciplines, including literature, history, we specifically consider girlhood through a feminist lens and examine how definitions of girl and girlhood shape individual experience, historical narratives, cultural representations, and futures.
| | | | |
| --- | --- | --- | --- |
| Fall | 2225F | Andrea Burke | Previous course outline |
GSWS 2230F INTRODUCTION TO THE BLACK/AFRICAN DIASPORA NEW COURSE!
This course is an in-depth exploration of the Black Diaspora, focusing on the histories, experiences, and cultural productions of Black people throughout the world. This course begins with an examination of the historical and cultural contexts of the Black Diaspora, including the transatlantic slave trade, colonialism, and migration. We will analyze literature, music, film, and visual art, examining how these cultural productions reflect and shape the experiences of Black people across the world. We will also explore the ways in which Black people have used cultural production as a form of resistance and liberation. Pre-orCorequisite(s):GSWS 1030F/G and 0.50 course from GSWS 1021F/G, GSWS 1022F/G, GSWS 1023F/G, GSWS 1024F/G,or 0.50 of any first-year essay course in Arts and Humanities, Social Science, or Media, Information, and Technoculture. Students can request special permission from the department to enroll in this course without the prerequisites!
GSWS 2240F FOUNDATION OF FEMINIST THOUGHT
This course takes up foundational readings in the history of feminist thought from early feminists calls for women's equality and rights to postmodern understandings of gender. The course will consider how feminist thought has emerged, developed and evolved in response to various historical, intellectual, social, political and cultural challenges. No prerequisites.
GSWS 2243F #ME TOO: THE POLITICS OF RAPE CULTURE AND FEMINIST RAGE  NEW COURSE!
In this course, we will trace the development of the #MeToo movement through a variety of of mediums including, but not limited to, music, public speeches, social media, popular culture, and scholarship. We will examine how the #MeToo movement changed, and continues to change, on a world-wide scale, law and public policy pertaining to issues such as sexual harassment, sexual abuse, and coercion. We will explore key topics of the #MeToo movement through interdisciplinary feminist perspectives, and by looking at how such issues unfold in, for example, the workplace, schools, and the online sphere.
| | | | |
| --- | --- | --- | --- |
| Fall | 2243F | Katrina Younes | Course outline |
GSWS 2244 WOMEN AND HEALTH
This course takes a critical, interdisciplinary approach to understanding women's health. The course is organized into six modules with each module covering a topic area that is relevant to women and health. The topics covered in this course are:The Medicalization of Women's Health; Representing Gender and Women's Health; The Politics of Reproduction; Diversity and Women's Experiences of Health Care; The Social Determinants of Women's Health; and Women, Work and Health. No prerequisites.
GSWS 2264G FAT IS FEMINIST: GENDER, SEXUALITY AND WEIGHT  NEW COURSE!
Fat shaming discourses are pervasive, permeate popular culture, and have a real impact on people's lives. This course will demonstrate that modern fat phobic discourses have origins in the historical stigmatization of black women's bodies during the Atlantic Slave Trade. Students will learn about how discourses othering fatness and black bodies were core tenets of the Protestant Revitalization and Temperance Movements. These Movements molded modern beauty standards that value white and thin women's bodies over all others. These beauty standards permeate our modern popular culture. While bigger women may be represented in the media, this representation often reinforces fat shaming discourses. However, some women in the arts, like Lizzo and Melissa McCarthy, challenge dominant beauty standards and celebrate their bodies. This course will demonstrate that the fashion industry particularly excludes folks who do not fit the white and thin body ideal. We will consider how terms like small, medium, large, extra-large, and plus size reinforce fat shaming discourses. Students will gain an understanding of how beauty standards have changed in the late 20th and early 21st centuries, yet how being thin remains the ultimate feminine beauty standard.
GSWS 2265F YOUTH ACTIVISM
In this course, we will explore the connections among gender, youth activism, and non-traditional political participation. Understanding the state of youth activism and the factors that encourage youth participation is particularly important because, as we will discuss throughout the semester, youth have played a crucial role in many of the most effective social movements going back to the 1960s, and the youth of today will shape what politics looks like for the next generation. The course is divided into three sections. First, we will examine the foundational features of youth activism and political participation writ large. Second, we will investigate current youth activism in action by looking at local, national, and global movements such as Black Lives Matter, March for Our Lives, the Occupy Movement, and Fridays for Future. And, finally, by using the groundwork established in the first two-thirds of the course, we will explore how youth are changing the content and shape of political engagement today.
GSWS 2270A WOMEN, LAW AND SOCIAL CHANGE
This course is an introduction to various areas of law which affect women in specific ways. It will examine laws relating to sex discrimination, employment, sexual harassment, rape and sexual assault, abortion, marriage, divorce, child custody, inheritance, pornography and prostitution. It will explore topical debates in these various areas of law and how law can be used as a strategy for bringing about social change.No prerequisites. Antirequisite(s): GSWS 2260.
| | | | |
| --- | --- | --- | --- |
| Fall | 2270A | Katrina Younes | Previous course outline |
GSWS 2273E SEXUAL SUBJECTS
This interdisciplinary course focuses on sexuality as a subject of study and considers how sexuality defines individual and social subjectivity. The course will explore sexual subjects within a theoretical context and might include sexology, psychoanalysis, queer theory, feminism, the history of sexual identity, and its representation in cultural production.No prerequisites.
GSWS 2274G INTRO TO TRANSGENDER STUDIES
This course will focus on trans identities, history, theory and politics from the perspectives of feminist, queer, and emerging trans theory. Topics may include transphobia and oppression of trans people, sex and gender change, transvestism, gender passing, transgender children and their families, and intersectionalities with sexuality, race, class, ability, etc. Antirequisite(s): Women's Studies 4460F/G if taught in Winter 2013; Women's Studies 3343F/G if taught in Fall 2015. Prerequisite(s): GSWS 1020E or 1.0 from 1021F/G, 1022F/G, 1023F/G and 1024F/G.
GSWS 2283G DESIRING WOMEN
This course looks at how female sexuality and subjectivity is experienced, understood, represented and theorized across a range of disciplines; these may include art, literature, media, psychology, anthropology, sociology, biology and medicine. It explores how female sexual desires, practices and identities are shaped in relation to individual, cultural and social meanings of female sexuality. No prerequisites.
| | | | |
| --- | --- | --- | --- |
| Winter | 2283G | Lauren Auger | Course outline |
WS 2290F INDIGENOUS FEMINISMS: POLITICS, RESISTANCE, AND CULTURAL RESURGENCE NEW COURSE!
Students explore Indigenous feminist frameworks and epistemologies to understand the participation of Indigenous women in social, political, and environmental movements. This course examines issues relating to the historical and contemporary experiences of Indigenous women feminists nationally and internationally. This course also considers Indigenous feminist analyses and Indigenous women's issues.Antirequisite(s):Indigenous Studies 2807F/G.Prerequisite(s):Indigenous Studies 1020E or GSWS 1020E, or 1.0 course from GSWS 1021F/G, GSWS 1022F/G, GSWS 1023F/G, GSWS 1024F/G or GSWS 1030F/G, or special permission from the Program.
| | | | | |
| --- | --- | --- | --- | --- |
| Fall | 2290F | Renee Bedard | Thursdays 10:30 - 1:30pm | Course outline |
GSWS 2291G INDIGENOUS WOMEN IN THE ARTS IN CANADA: CULTURAL TRADITIONS, SURVIVAL, AND COLONIAL RESISTANCE NEW COURSE!
One of the main objectives of this course will be to unravel how human beings become categories that expand beyond the seemingly binary divide between the sexes, the races and the have and have-nots. We will consider the real-life experiences of women or two-spirit peoples through an examination of texts from the fields of anthropology, cultural studies, feminist studies, and queer studies, among others. In addition, our examination of popular culture, such as films, television shows, music videos, and clips from the internet, will provide thoughtful, and often provocative, examples of the complex representations of race, gender, class, and sexuality in our society.Antirequisite(s):Indigenous Studies 2682F/G, Art History 2634F/G.Prerequisite(s):Indigenous Studies 1020E, GSWS 1020E, or 1.0 course from GSWS 1021F/G, GSWS 1022F/G, GSWS 1023F/G, GSWS 1024F/G,or GSWS 1030F/G, or 1.0 from Art History 1640 or the former VAH 1040 or two of Art History 1641A/B, 1649A/B or the former VAH 1041A/B VAH 1045A/B, or 1.0 course or special permission from Program.
| | | | |
| --- | --- | --- | --- |
| Winter | 2291G | Renee Bedard | Course outline |
GSWS 2414B BLACK LIVES AND EXPERIENCES  (NEW COURSE!)
Black populations in the Black Diaspora defy simple characterizations. In this course, we will examine the experiences of Black people through an ethnographic exploration of their lives. The close analysis of ethnographic monographs and articles will illuminate the ways in which race, gender, ethnicity, class, sexuality, ability, nationality, and other factors, shape the everyday for Black people in different cultural contexts. An additional focus will be a consideration of the experiences of Black anthropologists as ethnographers and scholars who are broadening anthropological discourses. No prerequisites
| | | | | |
| --- | --- | --- | --- | --- |
| Winter | 2414B  | Andrea Allen | Tuesdays 1:30-4:30 pm | |
GSWS 2415B HIP HOP FEMINISM NEW COURSE!
This course examines the roles of women in hip hop, and the cultural discourses surrounding them. Students will take into consideration elements of hip-hop culture, its malleable media forms, its origins, history of production and reproduction, and interdisciplinary, transnational, and intersectional approaches to the study of this cultural form. In doing so, throughout the term, students will analyze the production and creation of hip-hop by and featuring Black women and members of the LGBTQIA+ community. We will utilize texts including scholarly articles, music videos, visual albums, films (documentary and fiction) and social media networks to better grasp the commodification and politics of Black Studies and hip-hop feminism.
| | | | |
| --- | --- | --- | --- |
| Winter | 2415B | Katrina Younes | Course outline |
GSWS 2710G MARRIAGE: FEMINIST AND QUEER PERSPECTIVES
This course covers five themes: the history of marriage, primarily in the West; the transition from arranged marriage to companionate marriage; feminist attempts to render marriage egalitarian; capitalism and the growth of the wedding industrial complex; queer perspectives on both heterosexual and same-sex marriage. No prerequisites.
GSWS 3133F LESBIAN LIVES AND CULTURES
This course will explore what it means to identify as a lesbian today. With the move away from identity politics and the ascendance of queer as a challenge to identity categories, it will consider the place of lesbianism in contemporary North American culture and more globally. Attention will be paid to a variety of aspects of lesbian lives and to contemporary forms of lesbian experiences in relation to their historical antecedents. Themes will include intersectionality, activism, sex, literature, art and politics. Prerequisite(s):GSWS 2220E orGSWS 2273E or permission of the Department.
GSWS 3173G INTRODUCTION TO QUEER THEORY
What is queer theory, where did it come from, how is it changing? Examining key foundational texts in queer theory, the contexts for its emergence, and debates over its contemporary usefulness and direction, students in this course will trace the development of queer theory and investigate its current applications.Prerequisite(s):GSWS 2220E or GSWS 2273E, or permission of the Department.
| | | | |
| --- | --- | --- | --- |
| Winter | 3173G | Kate Korycki | Previous course outline |
GSWS 3320G INTRODUCTION TO GENDER AND FEMINIST METHODOLOGIES (NEW REQUIRED COURSE)

This course introduces students to gender studies and feminist research methodologies from a variety of disciplinary traditions and theoretical perspectives. Students will learn about and begin to apply specific methodological issues, including ethics, archival work, researcher positionality, and the practices and politics of data collection, interpretation, and reporting.Antirequisite(s):BOTH GSWS 3321F/G and GSWS 3322F/G. Prerequisite(s):GSWS 2220E, or permission of the Department.
GSWS 3324F CONTEMPORARY TOPICS IN CRITICAL RACE STUDIES
From black face performances, appropriation of cultural and spiritual practices, and its centrality in economic and other forms of social inequalities, race and racism persists. In this course, we will ask: What is race and its formations? How does it shift and change over time? Why do we remain so deeply invested in race/racism but are afraid to talk about it? And how is race debated and contested in the twenty-first century? We will explore these, and other questions, with sources from across disciplines (e.g., sociology, feminism, anthropology, literature), as well as in popular culture/media, and in liberation and anti-colonial movements. The course does not offer definitive answers about race, but rather explores its historical roots and contemporary manifestations. Prerequisite(s):GSWS 2220E or GSWS 2273E, or permission of the Department.
GSWS 3325G FEMINIST EMBODIED THINKING NEW COURSE!
In this course we will ask how we come to know the world? Calculative thinking that sees the world as a storehouse of resources has brought the earth to a point of climate catastrophe. It also separates us from the particular worlds we experience, from the relational worlds, the ones our bodies connect. Thinking that does not assume mind/body dualism and instead comes out of lived experience clearly differentiates from calculative thinking which prioritizes efficiency. Drawing from theories and methodologies such as critical phenomenology, authoethnography, critical race and critical disability feminisms, we follow the insight that thinking follows experience. We will focus on concrete, experiential and relational approaches to thinking, such as autoethnographical writing, recording environmental sounds, creating images, and perceiving alongside artworks.We will bring our embodied contact with the world in dialogue with feminist, Indigenous, and decolonial texts. Prerequisite(s):GSWS 2220E,or permission of the Department.
| | | | |
| --- | --- | --- | --- |
| Winter | 3325G | Helen Fielding | Course outline |
GSWS 3331G - IN YOUR SKIN: SEXUALITIES AND PERFORMANCE  NEW COURSE!
(cross-listed with Theatre Studies 3211G)
This course examines the relationship between sexuality and performance. Students will examine play texts and performance and study such topics as drag, transgendered roles and representation, and the role of gender and sexuality in the interpretation of a text or performance. Prerequisite(s): GSWS 2220E, or permission of the Department.

| | | | |
| --- | --- | --- | --- |
| Winter | 3331G | Devereux | Course outline |
GSWS 3357G FEMINISM AND FEELINGS NEW COURSE!
This course takes an interdisciplinary and intersectional approach to explore how emotion, feeling, and affect variously function constitutively in relation to knowledge production, subjectivity, community formation, and activisms in feminist thought and movement. Together we will explore, among other topics and issues, the historical and gendered devaluation of feeling and emotion in western colonial logics; the gendered dimensions of affective labour/care work; the role of felt theory in anti-colonial and decolonial work; the work that archives of feeling do in transforming conventional understandings of trauma and its impacts; queer-feminist de-pathologization of bad feelings pleasure politics as a project for Black feminist liberation; intersections between the personal, the political, and the public, including as articulated in the Public Feelings Project (Feel Tank) and relations between activist fatigue and feminist hope. Prerequisite(s):GSWS 2220E,or permission of the Department
| | | |
| --- | --- | --- |
| Winter | 3357G | Kim Verwaayen |
GSWS 3362F FEMINIST PERSPECTIVES ON GENDER-BASED VIOLENCE
Violence against women was a virtually invisible social problem until it was brought to light by feminist activists some 40 years ago. Since then, there have been a number of political and scholarly controversies surrounding this issue. Although this course focuses on Canada, it will also examine key aspects of these debates in Canada and the United States, as well as in other parts of the world. These theoretical issues will also be connected with practice, that is, with the front-line work that is undertaken in the community to counter gender-based violence, particularly male violence against women. Prerequisite(s):GSWS 2220E, or permission of the Department.
| | | | |
| --- | --- | --- | --- |
| Fall | 3362F | Katherine McKenna | Course outline |
GSWS 3440F GENDERED BLOOD: CRITICAL MENSTRUAL STUDIES NEW COURSE
This course considers menstruation and menstrual equity movements through interdisciplinary, intersectional, and cross-cultural perspectives, particularly work to de-stigmatize periods. Students will deconstruct essentialist narratives and include gender non-binary menstruators. Topics may include menstrual leave, environmental impact of disposable products, period-tracking apps and menstrual management technologies, and reduction in period poverty. Prerequisite(s):GSWS 1020E or 1.0 course from GSWS 1021F/G, GSWS 1022F/G, GSWS 1023F/G, GSWS 1024F/G, or GSWS 1030F/G, or special permission from the department.
| | | | |
| --- | --- | --- | --- |
| Fall | 3440F | Laura Cayen | Course outline |
GSWS 3450G BLACK JOY NEW COURSE!
Why is it a revolutionary act for Black people to experience joy? What are representations of Black joy? A hashtag, a mandate, and an ideal, Black joy occupies an important but at times unspoken space in the imaginations of Black people. In this interdisciplinary course, we will examine how enjoyment is experienced by Black populations and communities. We will consider examples of Black joy from different cultural contexts and its representation in popular culture, literature, cultural studies, history, and ethnography.The course will also interrogate how gender, sexuality, disability, and class shape the ways in which Black people experience joy in the world.We will discuss Afrofuturism, Audre Lorde, Black eroticism, Black Girl Magic, Carnival, and Janelle Monae, among other topics.Ultimately, this course will demonstrate how Black joy represents modes of resistance, renewal, and healing for Black people around the world.Pre or Corequisite(s):GSWS 2230F/G or GSWS 2231F/G. Students can request special permission to enroll in this course without the prerequisites.
| | | |
| --- | --- | --- |
| Winter | 3450G | Andrea Allen |
English 3915E THE LIVES AND LITERATURE OF BLACK NORTH AMERICANS  NEW COURSE!
Through reading a variety of genres (poetry, autobiographies, fiction, histories, speeches, letters, legal briefs), we consider what it means to be Black in North America. We ask: how do the experiences of Black Canadians and Black Americans compare? How do Black Canadian and Black American authors influence, engage, and respond to one another? How do the histories of each nation affect Black authors? In analyzing this rich body of literature, we contemplate the diverse experiences, including joys and sorrows, struggles and successes, of Black North Americans. The course includes field trips to local Black history sites and engagement with Black community organizations, including the Fugitive Slave Chapel at Fanshawe Pioneer Village, the Black Mecca Museum, and the London Black History Coordinating Committee.
*This course will count toward the Black Studies Minor. If interested in taking this course, please reach out to Dr. Green-Barteet, Undergraduate Chair of GSWS.
| | | |
| --- | --- | --- |
| Fall/Winter | 3915E | Miranda Green-Barteet and Alyssa MacLean |
GSWS 4461G GENDER RELATIONS IN POST-CONFLICT SETTINGS: UNDERSTANDING DIVERSITY AND DYNAMICS
This course aims to explore women's roles in conflict and post-conflict scenarios with a gender and feminist approach. We begin by looking at the intersection of gender, conflict, and post-conflict. The course covers the analysis of the difficulties faced by women, sexual minorities, and people with disabilities in the aftermath of conflicts, with a particular focus on how they have been systematically oppressed. This includes exploring social issues such as human trafficking, poverty, sexual and gender-based violence and violations of reproductive rights. Through this gendered approach, students will comprehend the various actors and intricate processes involved in post-conflict reconstruction processes, as well as how these affect decisions, mobility, (re)settlement, and post-conflict experiences.Prerequisite(s):GSWS 2220E, or permission of the Department
| | | |
| --- | --- | --- |
| Winter | 4461G | Course outline |
GSWS 4462F CULTIVATING CARE: CARE ETHICS AND INTERDEPENDENCE
In this seminar, students will explore various perspectives on care to engage critically with, redefine and relocate what care is, and who participates in care and all its affective qualities. Toward this aim, students will engage with academic and non-academic writing, films, and creative outlets that exhibit interdisciplinary fields of knowledge and methodology. Drawing on feminist, queer, trans, disability, Black, POC and Indigenous writings, the course highlights the power and limitations of care, as well as its material, ethical, and affective formations.The course begins by identifying care as a viable tool for surviving the precarity of our worlds, with the latter part of the course guiding students in building a foundation for fostering a critical and intersectional engagement with care as theory and practice. Prerequisite(s):GSWS 2273E, or permission of the department.
| | | | | |
| --- | --- | --- | --- | --- |
| Fall | 4462F | Jacob Barry | online synchronous | Course outline |
GSWS 4463F SCREENING SEX
This course examines the representation of sexuality in film and video with a specific focus on the history of representation of queer identities in film. The course will begin by considering early cinema's representations of gay men and lesbians, including the production of particular stereotypes, and the effects of the Production Code on Hollywood, particularly in contrast to European cinemas. We will then look at post-Hays Code American film-making (both Hollywood and independent), at British, Canadian and Commonwealth filmmaking, at the rise of independent film and video in North America, and the challenge posed by New Queer Cinema in the 1990s to such still stereotypical Hollywood representations as In and Out and The Birdcage. Along the way, we will consider specific themes, such as coming out, representations of youth, intersections with race and class, and AIDS. The course will finish by looking at films that avoid the mainstreaming of certain types of queer representation (as is the case with films like Milk, Brokeback Mountain, The Kids are All Right and A Single Man), and the effects such films have on the viability of independent queer film making. The final films will thus emphasize the contemporary directions of queer film-making outside of Hollywood. Prerequisite(s): GSWS 2220E or GSWS 2253E or GSWS 2273E, or permission of the Department.
| | | | |
| --- | --- | --- | --- |
| Fall | 4463F | WG Pearson | Course outline |
GSWS 4464G GENDER AND THE ENVIRONMENT
This course will focus on the linkages between gender, economy, environment, human development, race, class, sexuality, environmental racism and environmental justice. We will examine key contemporary environmental issues such as climate change, food security, the green economy, low-carbon development and degrowth; access to water, sanitation, and energy; pollution; and biodiversity conservation from feminist perspectives. Feminist and queer theory will also be used to question and destabilize binary categories such as natural/unnatural, nature/culture, normal/abnormal as they relate to our understandings of the environment.The course will explore how racism, sexism, classism, heterosexism, colonialism, imperialism, and other forms of oppression have shaped and continue to shape environmental discourses. Course materials will include academic and non-academic literature (including policy and journalistic literature), activist texts, case studies, fiction, and film. Prerequisite(s):GSWS 2220E,or permission of the Department.
| | | |
| --- | --- | --- |
| Winter | 4464G | Course outline |
GSWS 4607F HISTORY OF WOMEN AND GENDER RELATIONS IN AFRICA
In the past African women were powerful leaders, strong economic contributors and respected members of their extended families. This course will examine these historical roles as well as factors that undermined African women's status and changed gender relations, such as slavery, economic forces and colonialism.Prerequisite(s):GSWS 2220E, or permission of the Department.
| | | | |
| --- | --- | --- | --- |
| Fall | 4607F | Katherine McKenna | Course outline |