Past Events

---

---

---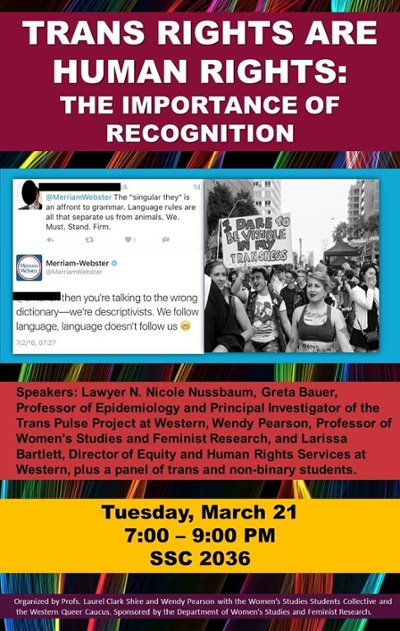 ---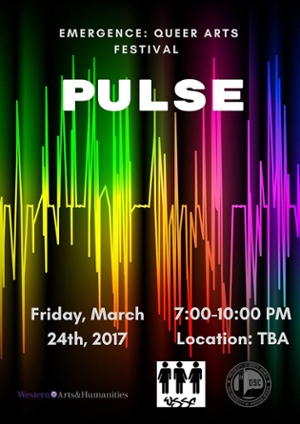 ---
Dr. Sara K. Day:
"Killing the Queen Bee: The Dead Mean Girl in Pop Culture"
Thursday March 16th
4:30 to 6 pm 
AHB 2B02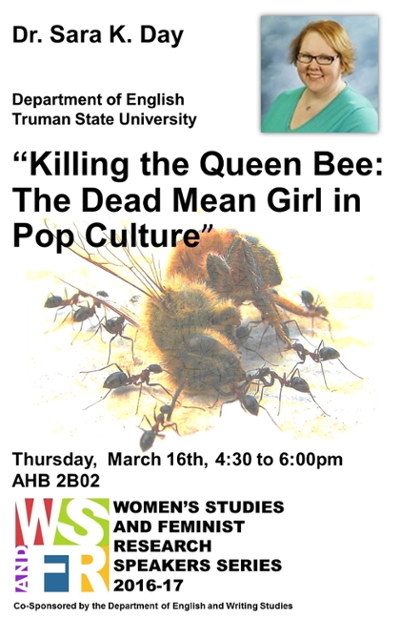 International Women's Day
March 8,2017 6-8p
Kingsmill Room, Huron University College
RSVP at https://www.facebook.com/events/108700932976833/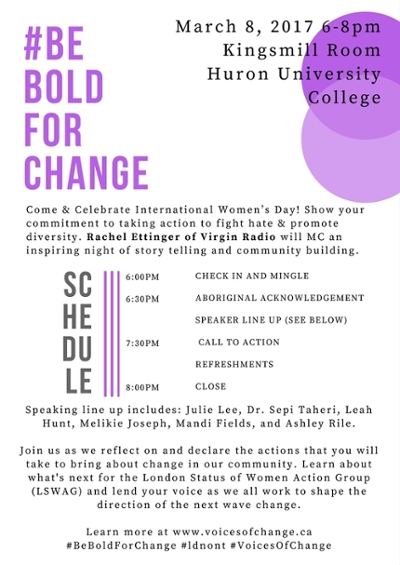 ---
LGBT2Q+ Growing Families Symposium
Satruday, March 4, 2017
9:30am – 4:30 pm
Carousel Room, Western Fair District
900 King Street, London, ON, N5W 2X7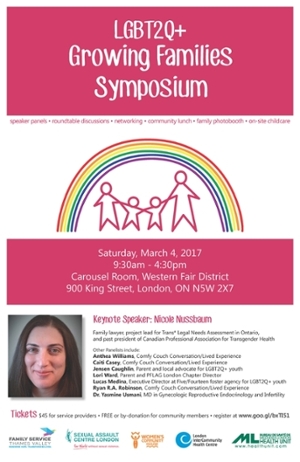 Are you a member of the LGBT2Q+ Community and interested in starting a family? Are you a service provider who works with folks with LGBT2Q+ identities? Are you trying to figure out how family and your LGBT2Q+ identity fit together?
The Growing Family Symposium is the perfect place to explore options and celebrate the families of LGBT2Q+ people! Tickets for this event are $45 for service providers and free or by-donation for community members. All attendees must register through this website and tickets are on a first-come-first-serve basis. This event is on Saturday, March 4th and hosted in the Carousel Room at the Western Fair. We'll have speaker panels, roundtable discussions, networking opportunities, a community lunch, and a LGBT2Q+ family photobooth!
 Confirmed panelists for this symposium include:
Keynote Speaker Nicole Nussbaum (Family lawyer, project lead for trans*legal needs Assessment in Ontario, and past president of Canadian Professional Association for Transgender Health)
Dr. Yasmine Usmani (Medical Doctor in Gynecologic Reproductive Endocrinology and Infertility)
Lori Ward (Parent and PFLAG London Chapter Director)
Lucas Medina (Executive Director at the Five/Fourteen, Foster Agency for LGBT2Q+ youth)
Jensen Caughlin (Parent and local advocate for LGBT2Q+ youth)
Ryan R.A. Robinson
Anthea Williams
Caiti Barendregt-Brown
On-site childcare will be provided. If you have any dietary restrictions, accessibility requests, or general questions about this symposium, please email them to lpitre@familyservicethamesvalley.com
Click here to register: https://www.eventbrite.ca/e/lgbt2q-growing-families-symposium-tickets-30858313045
---
Dr. Carlen Costa: Under the Covers 
Feb 13, 2017
4:00 - 6:00pm
UCC 290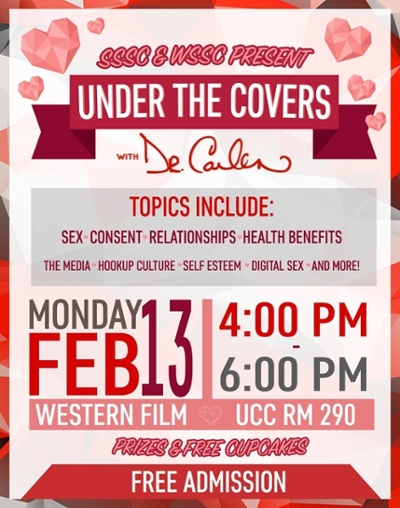 ---
Dr. Heidi Grasswick: Trust, Science, and Epistemic Injustice
Feb 9, 2017
4:30 - 6:00pm
SH 2317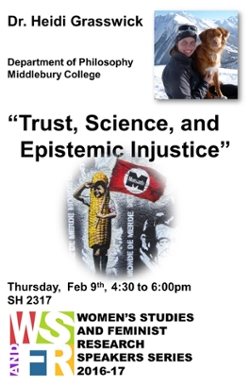 ---
 Purple Sex
Feb 4, 2017
7:00 - 10:00pm
The Wave (2nd floor UCC)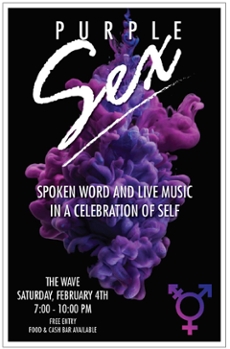 ---
Professor Cheryl Suzack, Department of English, University of Toronto
November 17th, 2016
4:30 - 6:00pm
SH 3317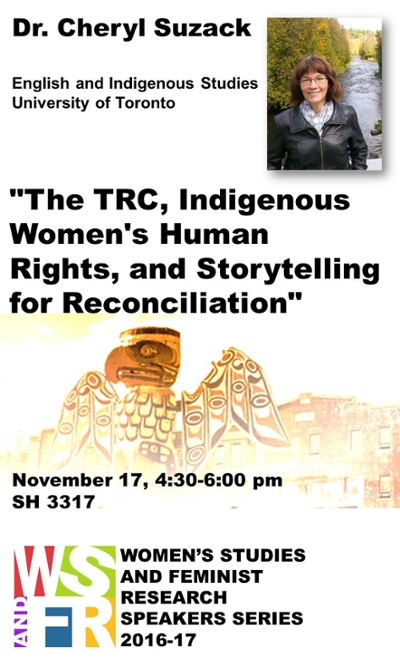 ---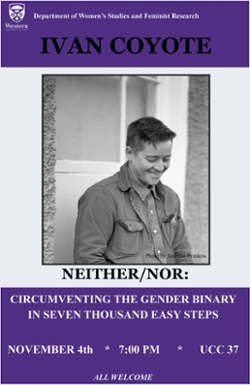 ---
Women's Studies Student Collective Annual Mixer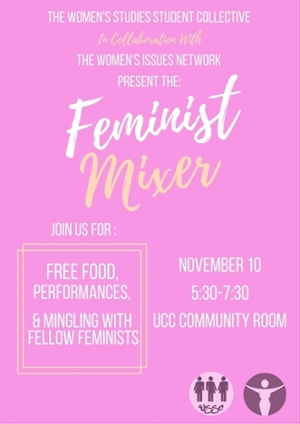 ---
Winter 2015-16 Events
Queer Research Day 2016  
April 20,2016
---
Girls Studies in the 21st Century  
April 28,2016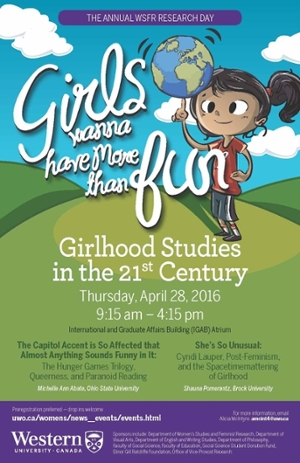 ---
Navigating Dependencies in Collaborative Reproduction 
March 31, 2016
Alice MacLachlan Department of Philosophy
York University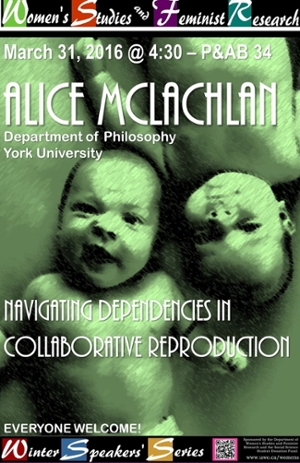 ---
Practicing Transgender-Inclusive Health Care: A Panel discussion 
March 17, 2016
**Please RSVP to this page by March 16**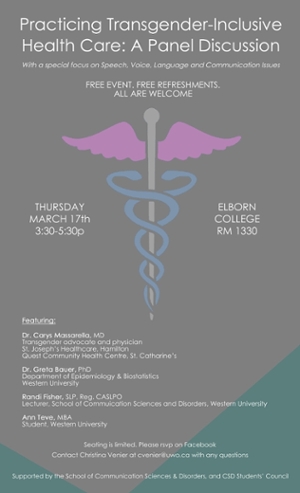 ---
Transgender, GenderVarient,Intersex Justice Project(TGIJP): Major 
March 19, 2016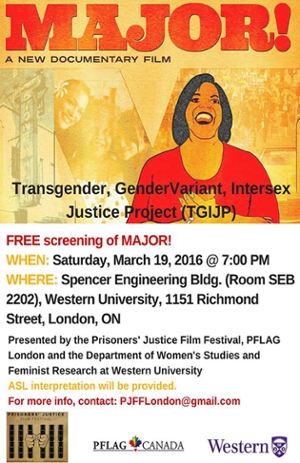 ---
Cultures of Sexual Violence
March 3,2016
Constance Backhouse, Faculty of Law
University of Ottawa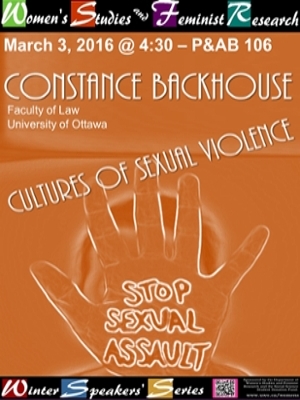 ---
Purple Sex
March 11th, 2016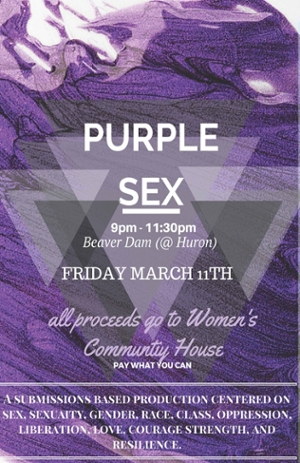 ---
Kim Katrin Milan: Award Wining, Interntionally acclaimed artist, Eduactor, and Writer
Feburary 4th, 2016
---
'Someday My Prince Will Come': Rescue Missions and Black Female Embodiment in Quentin Tarantino's Django Unchained (2012)
Kimberly Brown 
Department of Gender, Sexuality, and Women's Studies 
Virginia Commonwealth University 
January 21, 2016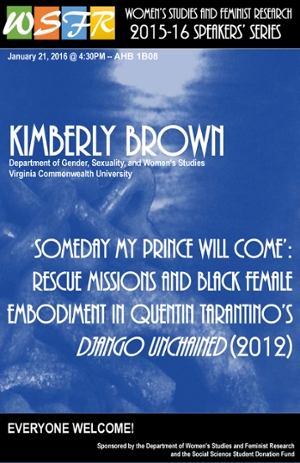 ---
Fall 2015-16 Events
Feminism and Chill
November 30, 2015, The Wave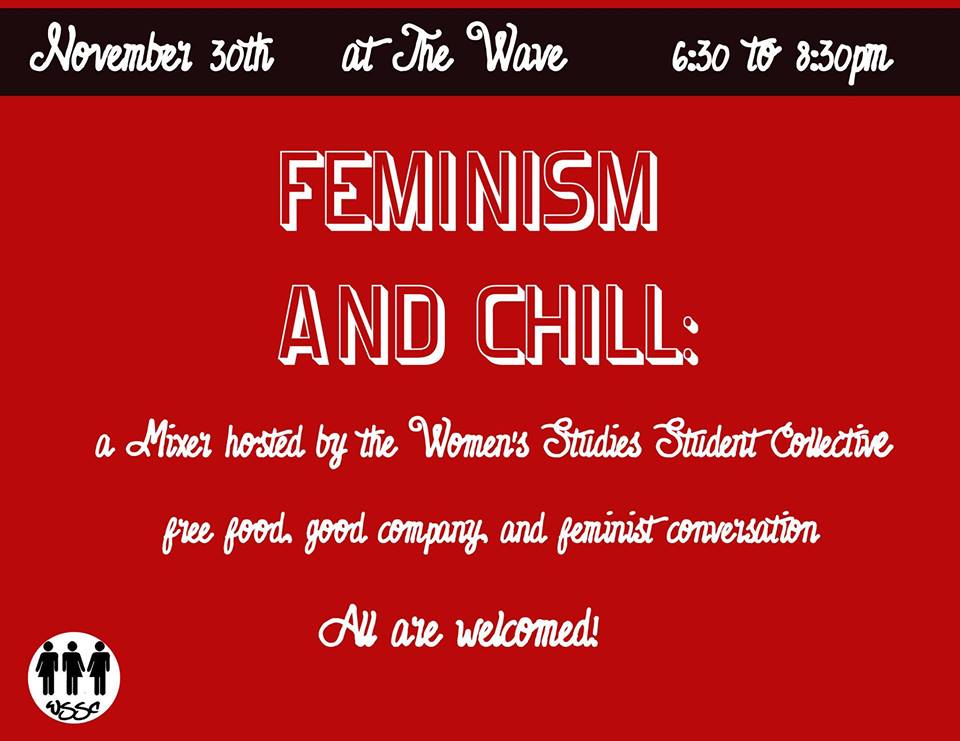 ---
Sexual Liberation in a Bubble: Disability, Adolescence, and Prime Time TV
October 7, 2015, UCC 58
Julie Elman, University of Missouri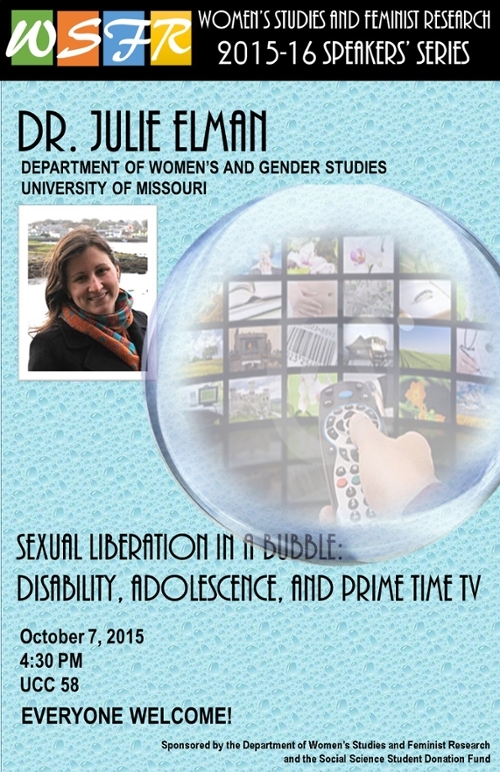 Bio excerpt from http://www.juliepelman.com/:
Julie Elman served as Lecturer of Television Studies/Media Theory at University College Dublin in the Republic of Ireland and Assistant Professor/Faculty Fellow of Gender and Sexuality Studies in New York University's Department of Social & Cultural Analysis, where she developed the university's first-ever undergraduate disability studies course. Her research focuses broadly on disability studies; feminist and queer theory; science studies; youth studies, and 20th century media and cultural history. Elman's monograph, Chronic Youth: Disability, Sexuality, and US Media Cultures of Rehabilitation shows how the representational figure of the teenager became a cultural touchstone for shifting notions of able-bodiedness, heteronormativity, and neoliberalism. By analyzing how adolescence increasingly became represented as a disability, the book reveals how the teenager became a lynchpin for a US culture of perpetual rehabilitation and governmentality.
---
Winter 2014-15 Speakers
Postfeminist Risk: Prophylactic Mastectomy and Questions of Empowerment
Thursday, March 19th, 4:30 - 6:00pm in SH 2317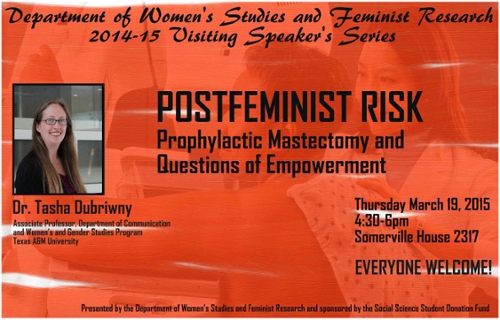 Dr. Dubriwny will be visiting Western from the Texas A&M University, where she is an Associate Professor in the Department of Communication and the Women and Gender Studies Program. Her recently published book, The Vulnerable Empowered Woman: Feminism, Postfeminism, and Women's Health (Rutgers University Press),has been recognized with the Outstanding Book Award, Organization for the Study of Communication, Language and Gender (2013) and the Bonnie Ritter Book Award, Feminist and Women's Studies Division, National Communication Association (2013).
---
The Child 'Monster' and Feminist Ethics.
Tuesday January 20, 4:30-6pm in SH 3315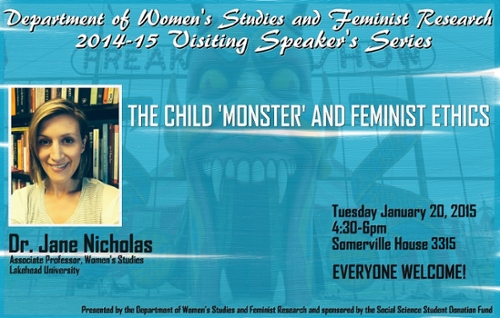 Dr. Jane Nicholas is an Associate Professor in Women's Studies at Lakehead University and holds a PhD in History from the University of Waterloo. Her presentation is based on her most current SSHRC-funded book manuscript project on the history of the freak show in Canada, 1900-1970. She has also published The Modern Girl: Feminine Modernities, Commodities, and the Body in the 1920s University of Toronto Press, 2014) and Contesting the Body and Nation in Canadian History (UTP, co-edited with Patrizia Gentile).
---
Fall 2014-15 Speakers
Who Cares for the Caregivers? How Spouses in Same-Sex and Different-Sex Marriages Support Intergenerational Caregivers of Later-Life Parents
Tuesday November 11, 4:30-6pm in SH 2355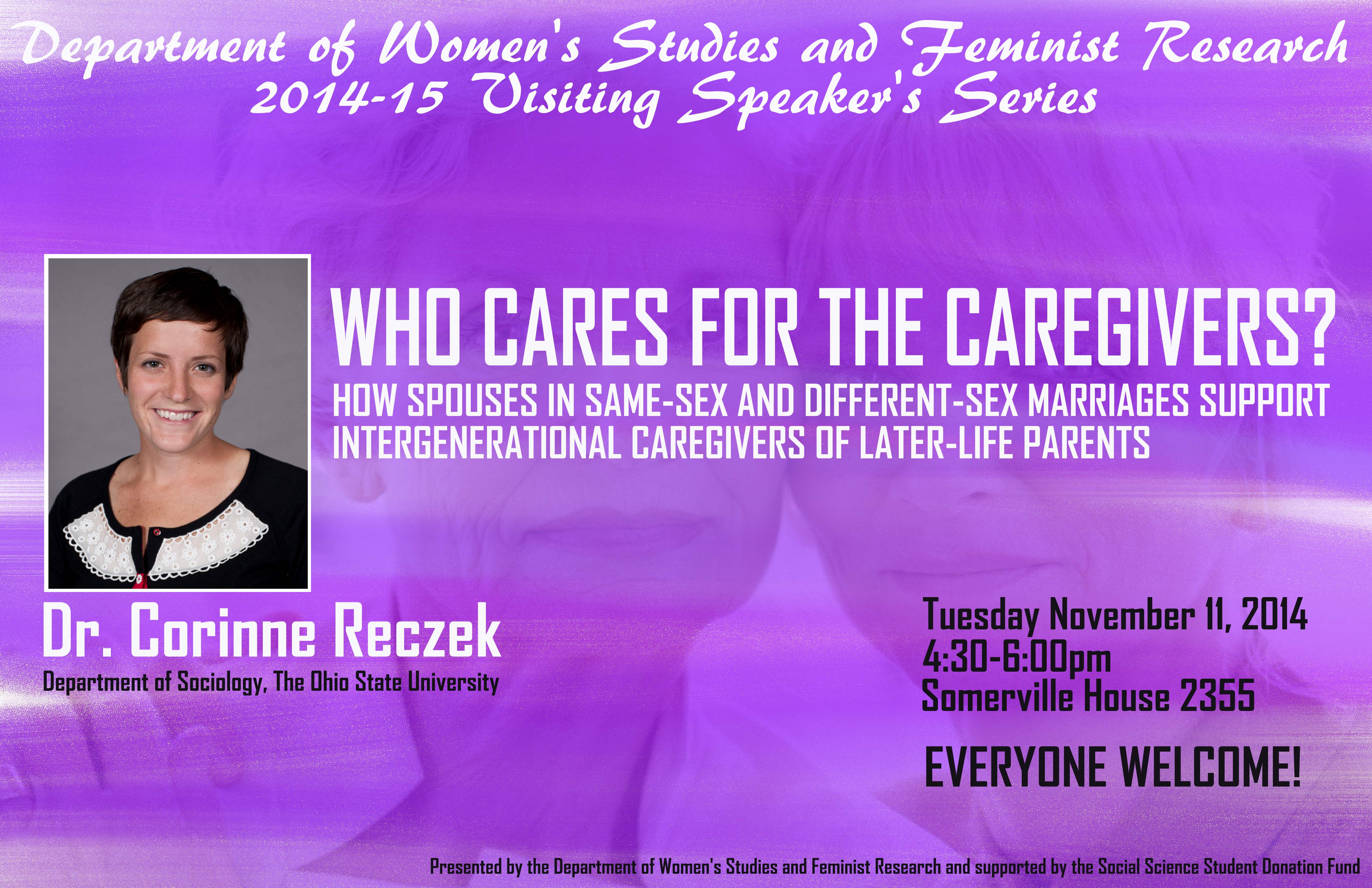 Dr. Reczek is an Assistant Professor, Department of Sociology, Ohio State University. Her research is situated in the fields of family, gender, and health. Her research focuses on articulating how gender, sexuality, and aging processes in family ties promote or deter health. A first strand of research explores how union status matters for health and health behavior for men and women in same-sex and different-sex unions. A second strand of research examines the parent-child tie, with a focus on the consequences of parent-child relationships for the well-being of both generations across the life course. A third strand of research explores how same-sex family structures shape child well-being. Prof. Reczek uses qualitative in-depth interview methods to ascertain processes, mechanisms, and meaning-making, and survey methods to ascertain large-scale population trends.
---
Madness, Gender and Sanism: Implications for Research and Practice
Wednesday October 22, 2014, 4:30-6pm in SH 2316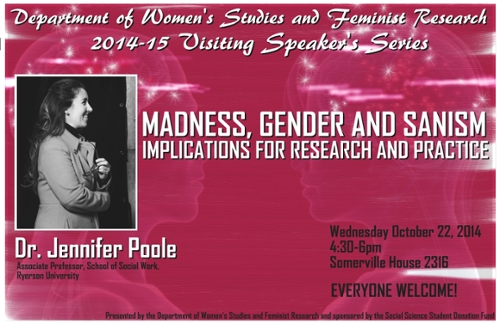 Dr. Jennifer Poole is an Associate Professor, School of Social Work, Ryerson University. With a background in community work and mental/health, Jennifer's interdisciplinary research program is centred on madness, "health", and "mental health", taking up philosophical, practice and policy concerns. Current projects focus on the experiences of Mad people in post secondary education, sanism, critical approaches to grief, death and transplantation. Author of Behind the Rhetoric: Mental Health Recovery in Ontario, she is particularly interested in Foucauldian notions of discourse/critical discourse analysis, theorizing the body as well as critical social work practice/pedagogy, critical disability, community based research and anti-oppressive practice(s). She hails from Montreal, loves her students and rarely says no to chocolate.
---
El Jones, Poet Laureate and Spoken Word Artist
March 13th from 4:30 to 6:00 pm in SSC 3014
El Jones is Halifax Regional Municipality's fifth poet laureate. She is the artistic director of the Word Iz Bond, A Spoken Word Artist Collective and she currently teaches in the African Canadian Transition Program at Nova Scotia Community College and in the Women's Studies program at Acadia. She describes herself as a "spoken word activist" and believes in poetry's power to mobilize black consciousness and give youth a voice. Her poetry is particularly committed to political causes and social justice.
---
Jessica Danforth, Founder and Executive Director of the Native Youth Sexual Health Network
Wednesday, January 20, 2014 Time: 1:00-2:30 pm Location: SSC 3014
"Speaking Back from the Margins: Indigenous Sexual and Reproductive Health, Rights and Justice."

Jessica Danforth is the founder and Executive Director of the Native Youth Sexual Health Network, the first and only organization of its kind by and for Indigenous youth working across issues of sexual and reproductive health, rights, and justice throughout the United States and Canada. She has spent more than half her life mobilizing individuals, families, and communities alike to reclaim their ancestral rights to self-determine decisions over their own bodies and spaces. Jessica is currently serving as the Youth Coordinator for the National Indigenous Youth Council on HIV/AIDS, and she is the North American co-chair for the Global Indigenous Youth Caucus at the United Nations Permanent Forum on Indigenous Issues. In addition, she is a member of a number of national and international boards and collectives including SisterSong Women of Color for Reproductive Justice Collective and Women on Web/Women on Waves. Her talk is entitled: "Speaking Back from the Margins: Indigenous Sexual and Reproductive Health, Rights and Justice.