My Favourite Things About Western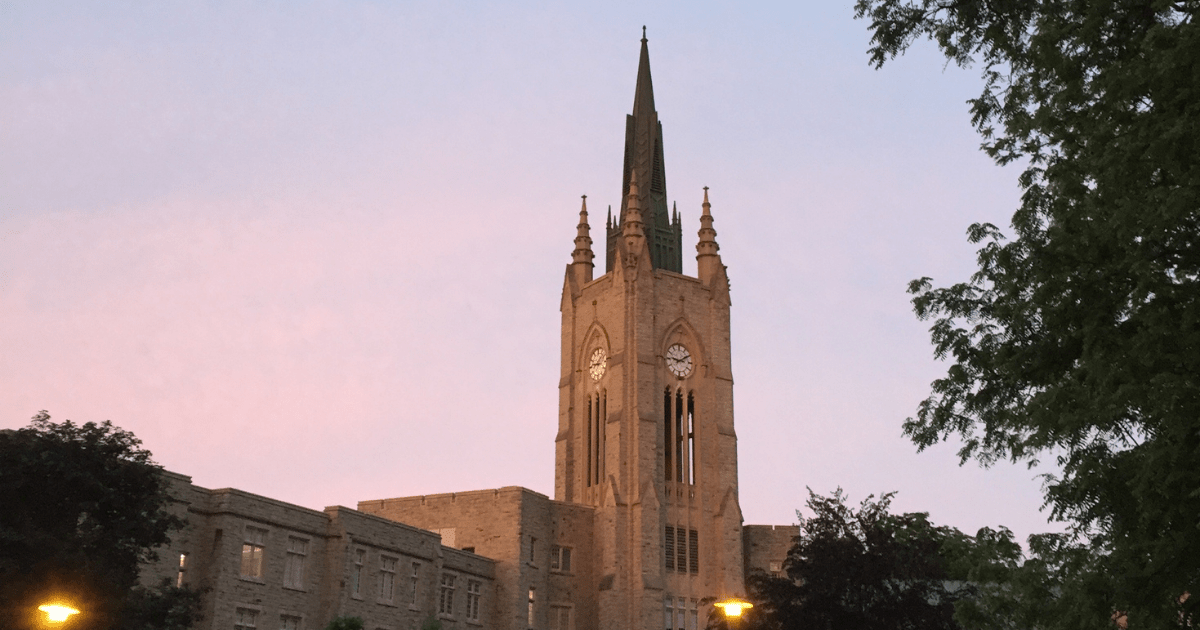 Written by: Grace Turek, Interdisciplinary Medical Sciences, Class of 2021
Photo by: Student Experience
As a fourth-year student who is just about to graduate in three weeks from the Medical Sciences program, I have begun to remise about all the great memories that I have made here over the past four years. I know it sounds cliché, but time really does fly by! I remember it like it was yesterday when I was touring Western University for the first time during grade 10 and I just knew that I had to study here. There are so many things that I love about Western and I am excited to share my favorite things with you!
The Campus:
Of course, this one is a no-brainer. I am pretty sure that Western is ranked as one of the top campuses in Ontario. Having a nice big campus that was more secluded and not intermixed with the city was really important to me! Unfortunately, this year with COVID-19 I didn't get to spend much time on campus and I really miss my walks through it. I think the best part about the Western campus is the central area with UC hill and the UCC. I loved how all the students would hang out around there and it just felt so welcoming and alive.
The Student Life:
Western's student life is awesome. There is so much for students to do from joining clubs to playing intramurals, going to the spoke, attending USC events, partaking in Orientation Week. Some of my highlights include my orientation week and the USC bachelor events.
I remember being super nervous about meeting new friends when coming to University, but O-week made it so easy to get to know people. From the concerts to the games and cheers, I found that the orientation leaders really fostered an environment where everyone felt comfortable and had a lot of fun. It is definitely one of my best memories at Western University.
Some of my other memories made at Western were at the many Bachelor watching parties. I am a huge Bachelor fan, so these were really cool for me. They even had past Bachelor contestants come to Western to host the events! Western USC also held concerts for Orientation Week, Purple Fest, and Frost Week featuring artists like Marianas Trench, Daniel Caeser, Jessie Reyez, and A Boogie wit da Hoodie.
Easy Access to Resources:
Western is really such an amazing university that puts its students first and cares about their academic, physical, and mental well-being. I found that the school made it really easy to access support for whatever I was going through or places that I needed to go! For example, Western has a student health clinic, an optometrist, a pharmacy, a dentist, and LifeLabs all on campus! Additionally, they have a dedicated team to assist students with financial support, mental health and even finding a home off-campus.
Overall Vibe:
Like I said above, when I toured Western for the first time, I just felt that I had to go here. Ever since then, I still get positive vibes from this school. The students at Western are honestly so nice and are very willing to help out if you ask. I had great success with reaching out to an upper-year to act as a mentor for me. Also, in my medical sciences program, I found that students were so caring and really wanted to help each other out and see everyone succeed. This is honestly something that surprised me, especially in a competitive pre-med environment.
If you are considering coming to Western for your undergrad or graduate degree,I promise you won't regret it. Although my program was challenging and stressful at times, it did not take away from my amazing time at Western and I forever cherish the four years that I spent here.
London Community:
Believe it or not, there are actually a lot of things to do in London, Ontario. Throughout my four years at Western University, I visited quite a few places around Western Campus and just Taken from www.westernusc.ca outside of London with my friends during the summer and as a study break during school! Unfortunately, some of the things I talk about may not be doable until post-COVID, but it is definitely something to look forward to!
Grand Bend: I LOVE Grant Bend. I'm sure if you have been there you will definitely agree with me. It is such a cool little beach town. There is a main street in Grand Bend that leads right to the water and has so many neat beach shops, ice cream, and candy stores, and yummy beach food. This is definitely the place to be on a hot summer day or to watch the sunset. The Grand Bend beach is just about 50 minutes outside of London.
Indoor Trampoline Park: I kinda have a soft spot for trampoline parks because I used to do a competitive trampoline, but these can be fun for just about everyone, no matter how old you are. The Flying Squirrel trampoline park is located right in London and has tons of trampolines, climbing walls, a cheese pit, and trampoline dodgeball. The Factor is an indoor adventure park and has trampolines, high ropes, ziplines, and a "warrior course". These are great places to check out with your friends if you need a break from school or just want to have fun and feel like a kid again.
Nature Walks in Sifton Bog or The Pinery: Now this one is definitely applicable to COVID-19 times and is actually the reason that I discovered these places. London has some great conservation areas to walk and get some fresh air and enjoy nature. Sifton Bog is located right on the Thames River and has a bunch of trails and boardwalks to walk through and take in the outdoor scenery. Pinery Provincial Park is a little bit farther and is located just beside Grand Band. It has a beach, tons of hiking trails, and even a campground if that is something that interests you.
Covent Garden Market: I discovered this place in my second year of University and was blown away. I have always loved fresh Food Markets because it reminded me of home. The Covent Garden Market is located right in downtown London and has a variety of different vendors selling tea, fresh fruit and vegetables, homemade jams, natural health products, and international foods! I highly recommend checking this place out!
As a fourth-year student who is just about to graduate from Western University and move out of London in a few weeks, I will definitely miss this city, and its welcoming and positive energy. It's been a blast London! Once the COVID-19 situation improves I hope that you will check some of these places out. I know that I am already looking forward to visiting London as an alumnus.
---
Published on