Excellence in Leadership at Western
Advancing Western to be a World Class University
Leaders play a vital role in achieving Western's aspirations. Through their decisions, behaviours, and actions, leaders advance Western in achieving its strategic goals of world class research and academic programs. Leaders are key to inspire a passion for Western and build a culture of engaged faculty and staff, high-performing teams and collaborative partnerships.
Western leaders work in a complex and ever-changing environment. They lead in a context of diverse client and employee stakeholders, and continuous social, technological, economic, and legislative change.
Western appreciates the significant role leaders play in partnership with faculty and staff.
Western's Leadership Competencies
Western is committed to investing in our leaders and has identified key competencies that will help leaders be successful.
To achieve Western's goals, our academic and administrative leaders need to have strong character, commitment to their role and Western's success, and have strength in four main competency areas: Leading Self, Leading People and Teams, Leading Programs and Services, and Leading Innovation and Change.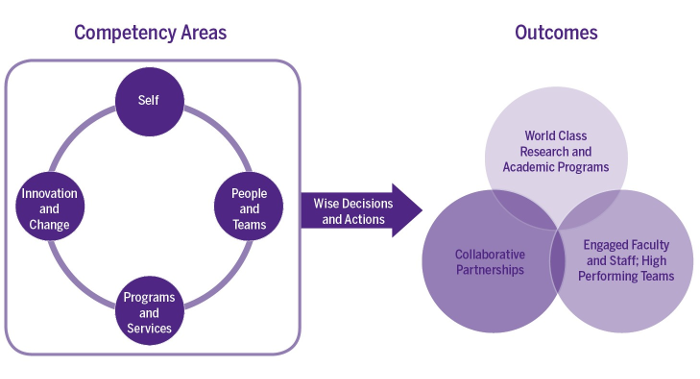 Using the Leadership Competencies
Current and future leaders are encouraged to reflect on their development needs and seek opportunities to grow in these four areas. The competencies also guide Western's leadership development supports and is a very useful framework when recruiting new leaders.
---
Published on  and maintained in Cascade CMS.