Electric Vehicle Charging Stations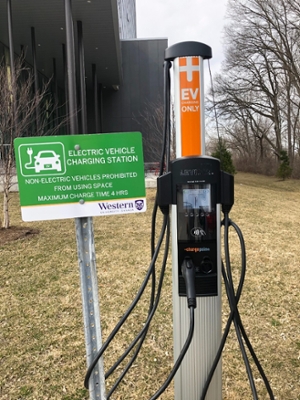 Western currently offers two EV Charging Stations on campus. These stations are located in the Visual Arts parking lot as well as the Alumni Thompson lot.  Please see the parking map for details on these locations.  
In order to use the charging stations at either location, time must be booked through the ChargePoint app.
We do not charge per kilowatt hour; however, standard parking rates apply.   
Permit holders with a valid Western Parking permit can use the stations in the Visual Arts lot at no additional charge.


Charging stations for visitors to campus are available in the Alumni Thompson lot. The use of the charging station is complimentary; however, payment on exit is subject to the usual parking rate of the lot.

Vehicles can charge in the space for a maximum of four hours.
Once the vehicle is charged, we ask that it be moved to an appropriate space, where either the permit or fee normally allows. This keeps the charging stations available for others to use and avoids unnecessary citations.  
If you have questions about these stations or require access, please contact Parking & Visitor Services at wparking@uwo.ca.