Welcome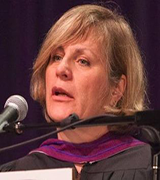 Welcome to the Department of English and Writing Studies.
In English and Writing Studies we investigate the profound cultural power of literature, theatre, film, and other forms of expression. Our combination of small classes and inspiring, award-winning professors provides the perfect setting for you to learn to write persuasively, think creatively, and hone your research skills in the fields of literature and theatre; creative writing, rhetoric, and professional communication; and film history, theory, and production.
Culture and literature are always places of struggle, in our own time as much as any other. When we look at them on a list, works from the past may appear as a row of monuments; in our classrooms, however, they emerge as places where societies define themselves and shape and challenge identities and power relations. We study and teach topics as various as the cultural and historical performances of gender, sexuality, and race; the development of literary genres; and the aesthetic and political innovations of Indigenous and Black literatures. Students in our courses develop communication, creativity, and critical-thinking skills that are highly valued professional assets across a wide variety of occupations and career pathways, including business, law, teaching, journalism, media, publishing and the creative arts, and public service. Please explore our website and contact us for more information.
Manina Jones
Professor and Department Chair
Department of English & Writing Studies
Programs offered: