We are offering digital programming over the exam period and the holidays, December 12 - January 10: pre-recorded active living, fitness and informational videos. We hope you will check out our offerings and join us again in January for LIVE Fitness Classes. Esports intramural registration is also now open for January. Campus Recreation and our facilities are closed for in-person programming from December 23 - January 10.
If you are staying in London, the City of London has listed a number of ways to get out and enjoy the holiday season, some of them you can do while also staying active and walking or skating. Check them out here: Celebrate the holiday season in London's downtown core | City of London
Our LIVE fitness content will be back January 11. In the meantime, check out our scheduled classes and archived content on YouTube Western Campus Rec - YouTubeor watch our social channels for class suggestions. Follow us to stay up-to-date on everything we have going on, and check our website for updates!
One of the best things you can do is keep active, if possible. Below schedule is not live and runs December 12 - January 10.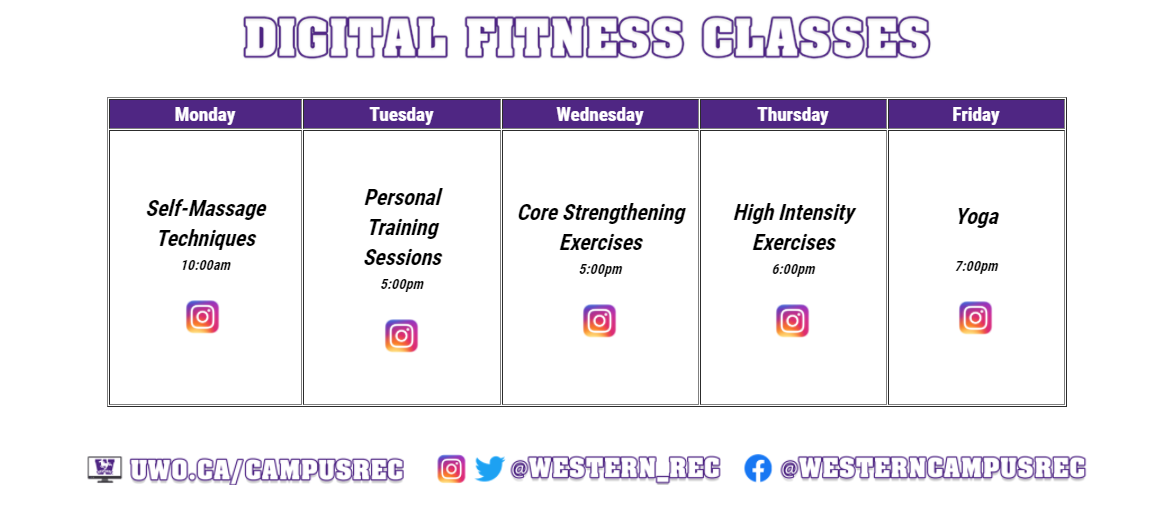 Note: Please ensure you are exercising safely. If you are new to exercise, it is a good idea to complete this link: http://eparmedx.com/wp-content/uploads/2013/03/PARQPlus2019ImageVersion2.pdf
As well, Harvard Medical School has published an article on 10 tips for exercising safely: https://www.health.harvard.edu/healthbeat/10-tips-for-exercising-safely
Want to watch on a larger screen PC screen for Instagram Live? You now can! Check out this article for more information: https://www.itechguides.com/how-to-watch-instagram-live-on-pc/
Live classes are best streamed through Instagram Live on your mobile device @Western_Rec. If you wish to try to view it on a desktop, here is some information about how it may be possible: https://www.makeuseof.com/tag/instagram-live-videos-browser/