Adam Stead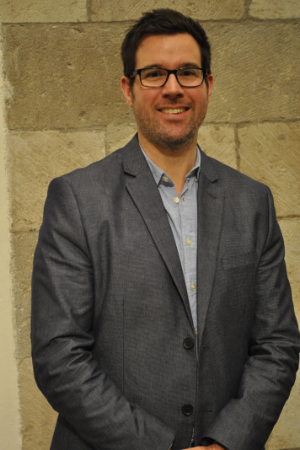 In what way did your experience at The Department of Visual Arts at Western impact you & your career path?
My experience at the Department of Visual Arts was truly transformative. It was there as an undergraduate student in art history that I first discovered my passion for visual culture generally, and for the art of the Middle Ages in particular. Since then, that passion has shaped my career path across several continents and cities, first as an M.A. student at Western and during my doctoral studies in Toronto, then as a Social Sciences and Humanities Research Council of Canada Postdoctoral Fellow at Western, and now in my position as a curatorial research assistant at the Museum Schnütgen in Cologne, Germany – one of the world's leading museums of medieval art.
How have you been contributing to your community following your experience at Western?
One of the most important things I learned at Western was the value of collaboration. Accordingly, I place a high degree of emphasis on working together with others in my scholarly community on projects, such as jointly-Can you think back and share a memorable moment from your time here at Visual Arts?
There are so many to choose from! A particular highlight for me was a trip to New York City organized by the Visual Arts Students Association. It was my first visit to New York, and I can still remember how exciting it was to see famous works of art – especially at the Metropolitan Museum of Art – that we had discussed in courses, and together with my fellow students at that. I have been to many museums since, but that initial experience still remains vivid and very memorable.
What was the most important thing you learned during your time here?
It was during my time as an undergraduate and graduate student in the Department that I learned to think deeply about issues and problems -- not just specifically art and historical ones, but also in relation to culture and society as a whole. That is a skill that one needs to succeed in today's complex world.
What is something you are passionate about? What are you working on right now?
Medieval art, of course! I am currently working on a variety of exciting projects at the Museum. Foremost among them is a special exhibition this fall devoted to objects from our storage vaults, many of which have never been exhibited before. In addition, we are producing a new survey-style publication featuring nearly 300 works from the collection.
The planning and Why do you think a career in the Visual Arts is important/valuable?
A career in the visual arts is not only valuable because of the constant contact with fascinating works of art, but also because one is forced to think critically about the central role that images of all kinds play in our lives. A career in the field equips one particularly well for navigating and understanding our image-saturated society. Additionally, whether it is in an academic, museum, or gallery context, a career in the visual arts offers the opportunity to teach others to see and to discover. I find the latter aspect particularly rewarding.
What would your hopes be for the next 50 years of Visual Arts at Western?
It would be wonderful to see the Department maintain and foster the strong bond between art history and studio students. Learning alongside and exchanging ideas with studio students was one of the most beneficial aspects of my undergraduate and graduate education in the Department, and I hope future generations of students will continue to profit from this stimulating educational model