Catherine Elliot Shaw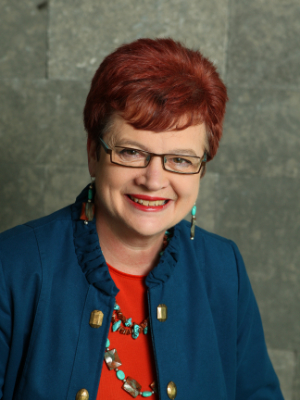 In what way did your experience at The Department of Visual Arts at Western impact you & your career path?
In first year, I had an idea that I wanted to work in a gallery or museum but it was not until fourth year and the opportunity to take Museology from McIntosh Gallery Curator Maurice Stubbs that really solidified my thinking. The course covered so many practical subjects, from traffic flow in exhibitions to collection management, from conservation to the art market, and provided a solid grounding for developing a museum practice.
How have you been contributing to your community following your experience at Western?
As McIntosh Gallery Curator, I would like to think that I provide encouragement, good advice, and opportunities for artists, particularly for emerging practitioners, through exhibitions, programs and jurying.
Can you think back and share a memorable moment from your time here at Visual Arts?
Lenore Boomsluiter, a longtime secretary in the chair's office, was a lovely lady with a friendly smile. She had a way of encouraging students with a quiet word that helped many of us get through difficult times.
What was the most important thing you learned during your time here?
Being able to problem-solve creatively.
What is something you are passionate about? What are you working on right now?
McIntosh Gallery celebrates 75 years of service this year with special exhibitions and programs. We are also producing a significant publication with essays by Western faculty and local historians which will contribute to the body of knowledge on both Canada's Home Front and on Western's contributions during both World Wars.
Why do you think a career in the Visual Arts is important/valuable?
Like all art forms, the visual arts enrich the human experience. A career in the Visual Arts, in whatever capacity, offers the opportunity to support the thoughtful examination of issues and exploration of artistic practice so important to an intelligent way of life.
What would your hopes be for the next 50 years of Visual Arts at Western?
Continued exploration of all media and new ways of seeing.