Laura Briscoe
Honours Specialisation Visual Arts, Visual Arts '06

In what way did your experience at The Department of Visual Arts at Western impact you & your career path?
The exploratory process of creating art at Western taught me to investigate my interests, push my ideas and thinking, and helped me to solve problems in creative ways. Visual Arts at Western reaffirmed my passion for the arts and education. Even though I was new to London, I felt right at home in the Arts building. The Art Department, the city, and an appreciation of the university as a whole had a huge impact on my decision to complete my Bachelor's of Education degree at Western.
Currently, I am the Visual Arts Department Head at Oakridge Secondary School and member of the Innovation Team at Thames Valley District School Board. I enjoy leading art education workshops locally and provincially. One of my personal initiatives is to create opportunities for my students in the community.
Awards
Prime Minister Award for Teaching Excellence, 2016
Leading Women, Leading Girls (provincial award), 2016
Bishop Townshend Award, 2016
Innovative Teacher of the Year, from the Ontario Business Educators' Association, 2014
How have you been contributing to your community following your experience at Western?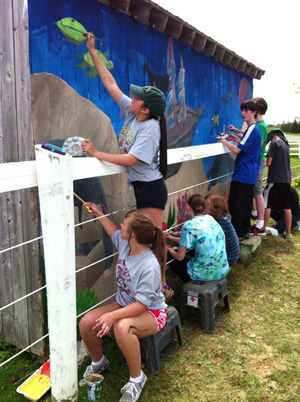 An ongoing goal of mine is to ignite the spark of altruistic values and the arts in today's youth. My students have worked with over 50 nonprofit organizations within the city of London by using the arts to enhance community programs. For example, we painted a mural at Sari Therapeutic Riding to create a sensory trail for students with physical and mental disabilities, hosted an annual "Creating with Pride" for the Pride Festival Student Exhibition, painted the Hyde Park Piano project, and produced several commercials and testimonial videos for Innovation Works, the Children's Hospital and for the Pillar Nonprofit Network. Collaborating on community artworks is not only a motivating learning experience for students, but it builds a culture of acceptance, support, and innovation. Students feel good when their artwork has a positive impact on other people.
Can you think back and share a memorable moment from your time here at Visual Arts?
Although I have numerous memorable moments in the Visual Arts Department, highlights include the exhibitions in the Art Lab, connections with my instructors, and the opportunities to exhibit in public spaces around the city. Following in my student UWO footsteps, my students and I have hosted numerous art shows around the city for them to experience the joy of sharing their work and ideas with the public. Western has been so supportive and welcoming. We've had professors as guest speakers for my secondary students, brought students to university lectures, art critiques and participated in UWO's secondary student exhibitions.
As an art student, I also remember enjoying 24-hour access to the art studios to really immerse ourselves in our artworks. I had a great time painting all night with the company of other classmates! The artworks on display in the halls added to the trust, collaboration, and creativity in the building. It was a great space to learn!
What was the most important thing you learned during your time here?
I learned the importance of collaboration, risk-taking, and a new way of looking at things. I gained a new appreciation of my creative process and a deeper understanding of how the process is just as important as the final product.
What is something you are passionate about? What are you working on right now?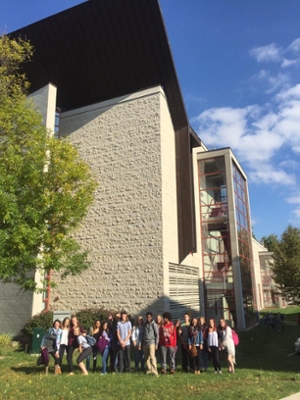 I am looking forward to speaking at TEDxWindsor on the new program #ArtOfMath combining visual arts with Mathematics this March.
I am passionate about developing an ongoing appreciation of the arts and instilling creative confidence in others on a local, provincial, national and global level. Over the past several years my colleagues and I have brought students on tours to Greece, Italy, and England to experience contemporary artworks and ancient civilizations.
It is also exciting to make connections between visual arts and other STEAM disciplines. Currently, I am working with a Math colleague, Jeni Vankesteren, on developing "The Art of Math" bundled program at Oakridge Secondary School. 
Why do you think a career in the Visual Arts is important/valuable?
The arts teaches you to be innovative, to take risks and to differentiate yourself. A career in the arts offers so many different possibilities. The arts develops critical thinking skills and fosters a new way of looking and observing. For me a career in the arts is about doing something I love; going to work doesn't feel like work.
What would your hopes be for the next 50 years of Visual Arts at Western?
Hopes for Visual Arts at Western would be to continue to expand and work with other subject departments on projects to see cross-disciplinary exhibitions. This would be an initiative I would personally love to be a part of with Western When I completed my combined degree, I often incorporated my learning from MIT (Media Information Technoculture) into my artworks. Deliberate collaborations help support and teach transferable skills. Last year I started a Video Arts program at Oakridge Secondary School and would like those students to have the opportunity to continue their post-secondary pathway at Western with video art exhibitions.Finally, we are so appreciative of the outreach collaboration with secondary students. I would like to continue to see those partnerships grow over the next 50 years. I'll be really old!