JoAnne M. Strongman (nee: Hullah)
JoAnne M. Strongman (nee: Hullah)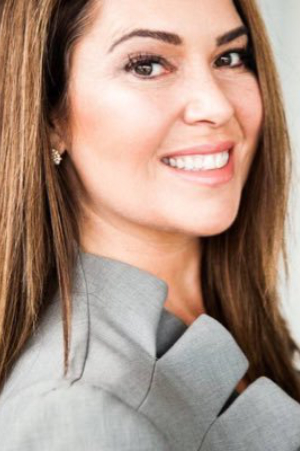 In what way did your experience at The Department of Visual Arts at Western impact you & your career path?
My career as a Food Stylist and Executive Producer has been defined by pushing the limits, rising above each obstacle put in front of me, and finding new ways to solve problems. Western's Department of Visual Arts provided an unparalleled education for creative business-minded individuals like myself, to flourish. We were nourished by leading professors sharing their experience and the knowledge in a unique and creative approach to thinking. Paint would fly, our work would thrive, and to this day – 30 years later - it is still how I approach my work every day. Today, I work with large diverse crews of talented people including my own team of young creative minds at JoAnne M. Strongman Food Style & Design and the newly minted JMS Media Group. I strive to lead them in the ways I was led by my mentors and teachers at Western. I owe who I am today in large part to the incomparable education I received at Western. It was late nights in the studio, conversations with brilliant, creative peers and professors in those early formative years, that have allowed me to become the artist, CEO, producer, creative director and award-winning stylist that I am today.
How have you been contributing to your community following your experience at Western?
Strong community values are an important part of my business and family life every day. I run my business with a clear philanthropic vision and community as a priority. As a stylist and creative director, I have volunteered my time and my teams time to initiatives that support health and wellness. We have dedicated resources and volunteer our specific to a charity called 365give, and support single mothers across the city. I am an active alumna and have spoken about my career and time at Western at the Vancouver Club as a part of Western U Alumni's Be Extraordinary Campaign in celebration of Founder's Day. I also stay in close contact with my sorority, Alpha Gamma Delta, and was back on campus just last year as a Charter Member to celebrate 25 years of the women's fraternity at the UWO Campus.
Can you think back and share a memorable moment from your time here at Visual Arts?
I'll always remember presenting my 4th year final project in the courtyard of the "New Building" and the feeling of self-confidence that I felt afterwards. The project involved art theory and practice. It represented the culmination of everything I had learned up until that point. The pressure felt astoundingly high but all came together, in what felt like a magical space, as I presented.  It was the summer solstice that day and it almost felt like something spiritual was moving through me as I gave the explanation of my massive sculpture that filled the whole place with both natural materials and negative space. It was all or nothing as I stood there raw and completely bare as an artist. I realized then that people were either going to love my work, or completely not understand it at all. On that day, people did relate to my work and it gave me the confidence I needed to thrive moving forward. Since then I have focused on believing in myself and digging deep, giving everything I've got to my work and my skill. It has to be from the heart, or not at all. I take my work very seriously and always bring an uncompromising attention to detail. From Vancouver to London to NYC, travelling wherever the projects take me. I've always surrounded myself people who will only accept the best and love what they do as much as I do.
What was the most important thing you learned during your time here?
Stay true to yourself, know your worth and never lower your standard of work.  Sleep when you are dead, work hard, play hard. I joke as I say that, but there is also a grain of truth to it: a busy schedule, work life, social life, philanthropy, mental health and fitness were all a part of my life at Western and are all a part of my life now. Balance is the key to my busy and abundant life. People often talk about being at the right place at the right time, which can sound like luck or chance, but for me place and timing have always been extremely important. My time at Western prepared me to rise and meet the challenges of owning my own business for the last 27 years. Traveling around the world and being at the epicenter of food, style and design, confidence and preparation have been two important skills that have carried me through. It's the values that were ingrained in me at Western, values like being a lifelong learner, and always giving all that I have, that continue to serve me so well.
What is something you are passionate about? What are you working on right now?
I'm passionate about women in business and feel that part of my role as a women in business has been making space for other women and supporting women in business and the arts. I strongly believe in the power of self-confidence and building each other up so that we all can succeed. I'd like to see us progress in the direction where there isn't a need for women in business organizations as we are all treated as equals versus men and women.
Why do you think a career in the Visual Arts is important / valuable?
In my line of work, the visual arts provide brands with a means to communicate their products via desired consumer lifestyle and thought process. The power of visual art then leads to heightened awareness, and drives sales for local and multinational companies. Our world is highly visual, and is only becoming more so. One can go on to any area of expertise or specialty from the visual arts, but it helps to be able to communicate clearly in any high level career, especially when you are dealing with global brands and multinational companies. I still do work as a traditional artist and painter, and sell my paintings all over the world. My style is defined by big bold thick paint, I paint mostly large acrylic florals on canvas and my work is largely inspired by some of the great artists I studied with while at Western, where I really established my style as a painter.
What would your hopes be for the next 50 years of Visual Arts at Western?
Visual Arts continues That Western continues to evolve, allowing its students and future industry leaders to command careers in the visual arts and remain competitive on the world stage. Visual art is an international language, it crosses boundaries and cultures and is of the utmost importance in the global world that we now live in. People are becoming more and more visual. Quick, accurate, succinct communication is more vital than ever. The advertising, film & television and social media worlds all depend on strong composition and visual conveyance of their ever-competing messages. Knowing the theory, history and design of strong visual art is of the utmost importance now more than ever in our world. I hope that the Visual Art Department at Western continues to thrive and utilize the extraordinary resources at UWO to be the best in the world. The opportunity to take classes at the world class university level offers students an edge in comparison to other art colleges in that they have access to other classes in order to explore and tailor-make their degrees to suit their own personal journey. I took courses at Huron college and UBC to complete my degree and have the best possible experience in other departments, rounding out what I learned to make me a strong business woman and entrepreneur.