Cydna Mercer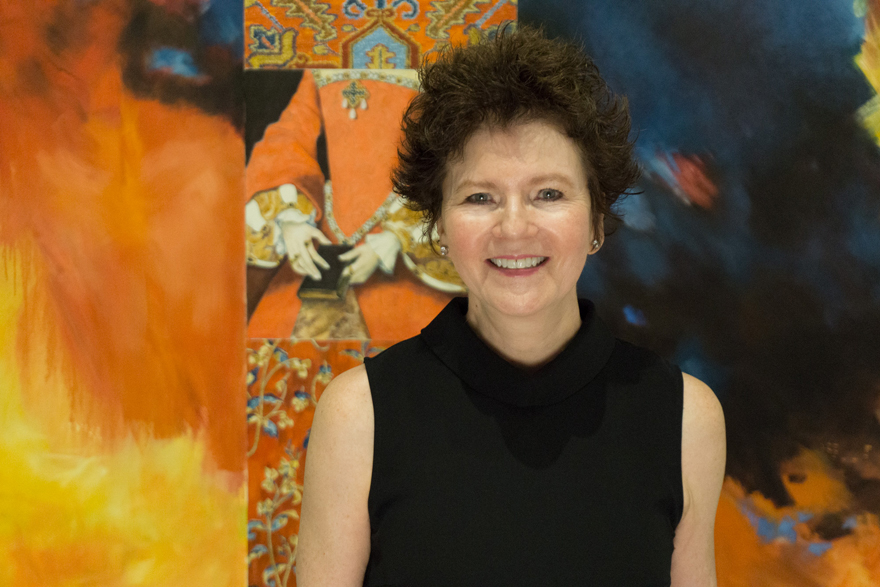 Behind Cydna Mercer is She is lost forever, 1992, oil on canvas, by Thelma Rosner (Western Visual Arts, 1972-1977), Collection of Museum London.     
In what way did your experience at The Department of Visual Arts at Western impact you & your career path?
In 1976, during my final undergrad year as an Art History major, I was unsure of my plans after graduation and Brenda McEachern, the Visual Arts slide librarian, suggested that I think about an art museum career. I followed her advice, attended an American graduate school where I obtained an Art History MA and a graduate certificate in Museum Studies, followed by an internship and then several years working at the Detroit Institute of Arts before returning to Canada in 1982.
How have you been contributing to your community following your experience at Western?
My community contributions have cross-referenced museum work and university teaching in both Art History and/or Museum Studies first in Calgary and then in London from 1985 to the present. My interest in art took me from contract museum work and teaching to a managerial position in 2000 at Museum London where I assist with life-long learning and enjoyment of art and history. And each year I look forward to welcoming Western's Museum Studies class when they come for a behind-the-scenes visit to Museum London.
Can you think back and share a memorable moment from your time here at Visual Arts?
Memorable moments were many since I had the privilege of being taught by talented teachers – among them the artists Paterson Ewen and Duncan de Kergammeaux and art historians Bill Dale, Bernard Bonario and Bob McKaskell. It was a privilege to return years later to teach in the same department where I had once been a student.
What was the most important thing you learned during your time here?
To work hard and pursue what interests you.
What is something you are passionate about? What are you working on right now?
I love my job! It never ceases to amaze me that I am working in a museum where just a few steps away from my office I can look at art and artifacts – the real thing – and enjoy seeing visitors of all ages and backgrounds engaging with our exhibitions. It is a thrill that never goes away, even though my role at Museum London is now indirectly related to art and artifacts and is instead involved more with governance and the support services that create a welcoming and safe environment for the collections and visitors.
Why do you think a career in the Visual Arts is important/valuable?
Art tells stories that transcend time and place and gives meaning to what makes us human both for the creator and the viewer. What could be more valuable than that?
What would your hopes be for the next 50 years of Visual Arts at Western?
My hope is that the Visual Arts continues to provide an excellent opportunity for students and professors alike to develop their full potential in a challenging and supportive environment of learning and exploration. I am grateful for my association with Western's Visual Arts Department for over four decades!