Sandy Zaklaria-Holstag awarded Faculty of Science Staff Excellence Award
Sandy Zaklaria-Holstag awarded Faculty of Science Staff Excellence Award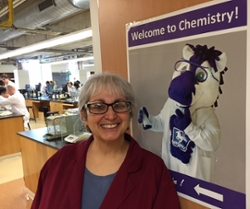 It gives us great pleasure to announce that Sandy Zaklaria-Holstag has been selected to receive the Faculty of Science Staff Excellence Award, which will be presented at the FoS lunch on Thursday, Dec. 10, 2015.
This Award recognizes Sandy as an unsung hero of Chemistry Outreach for at least 15 years! Sandy is most acutely aware that our Outreach effort is essentially the public face of the Department, whether through demonstrations and experiments for groups of school students, or through major events such as Fall Preview Day and March-Break Open House.
Working with outreach committee, Sandy does so many things (organizing events, dealing with school and city representatives, ordering supplies; contacting volunteers; making sure everything is on time, safe and age-appropriate) to ensure every Outreach event a successful one. She does all of this with purpose, good humor, and most importantly, a great sense of pride.
Please join us in congratulating her for this most deserving distinction! And, check out our Outreach page, and this story will be updated after the event.